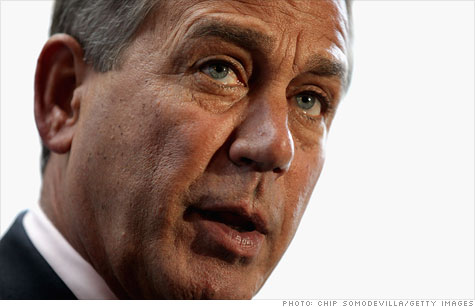 "I believe that we can create revenue out of fixing our tax code and bring that revenue to the table, as long as our colleagues on the other side of the aisle are serious about cutting spending," House Speaker John Boehner said Sunday on ABC.
NEW YORK (CNNMoney) -- It's been a big bone of contention from Day 1 on the congressional debt committee. Will Republicans accept any kind of revenue dedicated to debt reduction, and if so what kind and how much?
The question has greater urgency as the so-called super committee gets closer to its Nov. 23 deadline.
After all, budget experts say any credible debt-reduction plan must have some revenue in it. And revenue is a must-have to secure many Democrats' votes.
So can a majority of Republicans get behind a plan that includes some revenue? Definitely not if it means raising rates. But they might get on board if the revenue can be generated by ...
Boosting economic growth: A lot of Republicans stand behind the idea of pro-growth tax reform that reduces both rates and breaks. And many have gone on record as insisting any reform be "revenue neutral" -- meaning the new tax system wouldn't raise any more revenue than the current one.
But reform could help address deficits organically, they say, because a simpler, more efficient tax code can help spur the economy or at least not hinder it as much. And a more robust economy will generate more growth and therefore more tax revenue.
Last week, Republican Sen. John Thune said a tax plan that lowered rates, reduced tax breaks and closed "a lot of the lobbyist loopholes" would boost the economy and thus increase revenue. "I don't think there's anybody on our side who is opposed to that," he said.
But the problem is that it's highly uncertain how much growth any tax reform would generate and nearly impossible to measure since so many other factors can affect the economy, tax experts say.
Closing tax loopholes: The idea that tax credits and deductions are, in essence, aform of spending through the tax code is now widely accepted by both Democrats and Republicans.
And both parties are happy to disparage loopholes -- special tax breaks that have outlived any useful economic purpose or were wrangled by lobbyists on behalf of clients who stand to benefit.
Some Republicans may be amenable to closing loopholes before any broader tax code overhaul.
But some in the GOP say they only want to consider loophole closing in the context of tax reform.
Bumping up non-tax federal revenue: Not all revenue going into federal coffers is tax-based.
Consider the revenue generated from government auctions. There's been bipartisan support, for instance, for proposals to extend and expand the Federal Communications Commission's ability to auction licenses for commercial use of the radio spectrum.
And the co-sponsors of one such bill -- Republican Kay Bailey Hutchison and Democrat Jay Rockefeller -- have asked super committee members to consider including their bill to expand FCC spectrum auctions in the committee's proposed legislation.