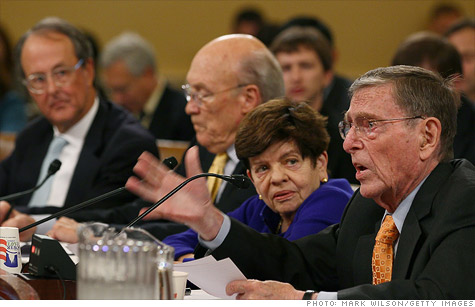 Budget experts (left to right) Erskine Bowles, Alan Simpson, Alice Rivlin and Pete Domenici urged the debt committee to lead.
NEW YORK (CNNMoney) -- The congressional debt committee, three weeks from its deadline and reportedly deadlocked, got a polite earful on Tuesday from four of the most passionate proponents of a big, balanced and bipartisan deficit-reduction plan.
Their key message: Step up and be leaders. Table partisan interests in favor of the country's interests to reduce the risk of a fiscal crisis. In other words, rein in the federal budget across the board, reform the tax code and make sure all but the most vulnerable share in the sacrifices required.
And they each expressed caution that ideology and political considerations may scuttle the whole process.
"I have great respect for each of you as individuals. But I'm worried you're going to fail, fail the country," said Erskine Bowles, who co-chaired President Obama's debt commission last year with Alan Simpson.
If the committee is unable to come to agreement, people would start to assume that Congress can't govern and that the United States is on its way to becoming a second-rate power, Bowles said.
The economic consequences would be grave as well, said Alice Rivlin, who co-chaired the Bipartisan Policy Center's Debt Reduction Task Force with Pete Domenici.
"I think we could face a long period of stagnant growth," Rivlin warned.
Domenici, a former Republican senator, made clear that if the committee fails because neither side could shed its partisan straitjackets, "you'll be equally complicit in bringing the country to the fiscal brink."
Judging from some of the questions from both sides of the aisle, it wasn't entirely clear that the committee members were willing to shed their partisan proclivities just yet.
A bipartisan majority of members on the Bowles-Simpson commission -- including 6 lawmakers -- voted for a $4 trillion debt reduction plan that included cuts to spending, containment of health care costs, and increases in tax revenue.
The Rivlin-Domenici task force recommended a plan similar in structure, but with $6 trillion in debt reduction over 10 years and more upfront economic stimulus.
The $4 trillion to $6 trillion range is what budget experts say is required to stop the country's debt from continuing to grow faster than the economy and to put it on a downward trajectory over time.
That's well above the $1.2 trillion minimum target set for the 12-member congressional "super" committee, as it's known. If the members can't agree on at least that much, a series of automatic spending cuts -- primarily in defense and nondefense discretionary spending -- would be triggered in 2013.
Those automatic spending cuts, of course, could be repealed by Congress sometime in 2012 before they take effect -- an outcome some observers think is a real possibility.
Bowles and Simpson laid out the six principles they believe the committee should follow in putting together any package:
Don't disrupt the fragile economic recovery
Protect the disadvantaged
Don't jeopardize the country's security
Protect investments in education, infrastructure and research
Cut spending in all areas of the federal budget
If the committee cannot propose detailed tax and entitlement reform before its Nov. 23 deadline, the debt committee should recommend some specific measures and agree on the broad parameters for tax and entitlement reform, the witnesses said.
"A two-stage approach would maximize the prospects for reaching agreement on at least $1.2 trillion in savings ... and putting in place a process to reduce the deficit by at least $4 trillion over the next ten years," Bowles and Simpson said in written testimony.