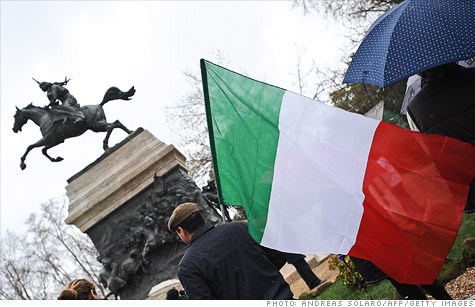 Yields on Italian bonds remain perilously close to the 7% mark despite some ECB buying and decent aution results.
NEW YORK (CNNMoney) -- Italian borrowing costs remained stubbornly high Thursday, even as the European Central Bank stepped in ahead of a decent Italian bond auction.
"After [Wednesday's] volatility it looks unlikely that ECB buying or any new government action will be enough turn investor confidence in Italy," said Evolution Securities strategist Gary Jenkins, in a client note. "That moment has passed."
The yield on the 10-year Italian bond eased to 6.89% Thursday, retreating from a record high of 7.48% hit just a day earlier. But yields are still closer to 7% than 6% and that's troublesome.
The 7% level is a psychological trigger because that was the mark that Greece, Ireland and Portugal first crossed shortly before receiving bailouts.
Italy is too big for a bailout. But it might not need one. The Mediterranean country is more solvent than its dysfunctional politics would suggest, said Brown Brothers Harriman analyst Marc Chandier.
"People are overreacting to Italy," he said. "It has plenty of wealth, it's just not in the government pockets. It's in household pockets, corporate pockets. The problem in Italy is one of political credibility, not so much insolvency."
The core of Italy's fiscal trouble is its unwieldy debt of €1.9 trillion, equal to 120% of GDP. But aside from the debt, the eighth-largest economy in the world remains solvent, said Chandler.
Early Thursday, the ECB reportedly bought around €1.4 billion of bonds, spread among Italy, Spain and Portugal, "but around two thirds was Italy," according to Stephen Gallo, head of market analysis at Schneider Foreign Exchange.
The ECB has been buying Italian bonds in an effort to keep yields from escalating even further. The central bank doesn't break out its purchases by country but analysts say the ECB has been stepping up its efforts.
"This week, they've possible doubled the purchase," said Chandler. Last week, the ECB bought a total of €9.5 billion of bonds, according to its website. That figure includes all country purchases.
There was also talk Thursday that the central bank may hold an emergency meeting and decide to implement an unlimited bond buying program.
The ECB declined to comment on both the possibility of a meeting and the specifics of its bond buying decisions.
Meanwhile, Italy is still struggling to sort out its political situation. Italian Prime Minister Silvio Berlusconi finally vowed to resign, though he won't actually step down until the Parliament passes a budget. And that could push his departure to December.
Jenkins said the Italian parliament will be passing austerity measures "at the earliest opportunity," though whatever benefit can be gleaned from this belt-tightening is dubious at best.
In the meantime, the ECB just keeps on buying up bonds.
"I am not sure that [the Italians] have time to 'cut and grow' (or indeed that it will work)," said Jenkins. "So at a minimum they are going to have to remain on ECB life support in the short term."