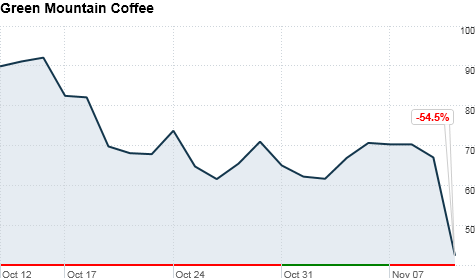 Click chart for more on Green Mountain Coffee.
NEW YORK (CNNMoney) -- Green Mountain Coffee Roasters shares plunged more than 30% Thursday, a day after the company reported its first sales miss in two years.
Shares of the coffee company, which makes the popular K-Cup, tumbled 39% Thursday.
In October, powerful hedge fund manager David Einhorn recommended shorting Green Mountain's (GMCR) stock due to concerns over the company's accounting. Being targeted by such an influential short seller such as Einhorn often makes a stock very volatile because even if the short seller is not right, people listen.
Einhorn leads Greenlight Capital (GLRE), a hedge fund that manages value-focused funds and a reinsurance company. He is known for successfully betting against Allied Capital and publicly shorting Lehman Brothers before it's infamous collapse.
Shorting is betting that the stock will go down by borrowing shares and hoping to buy the stock later at a lower price. A short seller makes money if the stock goes down.
Green Mountain shares are falling despite a relatively positive earnings report released Wednesday.
The company reported a revenue growth of 91% for the fourth quarter, with net sales of $711.9 million. But that fell far short of the $760 million that analysts had expected and it marked the first time actual revenue missed expectations in two years.
Green Mountain CEO Lawrence Blanford, attributed the shortfall to "a number of factors including changes in wholesale customer ordering patterns in our grocery and club channels despite steady consumer point-of-sale demand in those channels."
The company's fourth-quarter profit nearly tripled but earnings per share of 47 missed forecasts by a penny.
Analysts at Stifel Nicolaus expressed growing concern over Green Mountain in a Thursday report. The analysts said they believe that Green Mountain's low sales were a result of weakening demand for brewers and K-Cups and the company shipping ahead of demand, as well as long-term competition concerns.