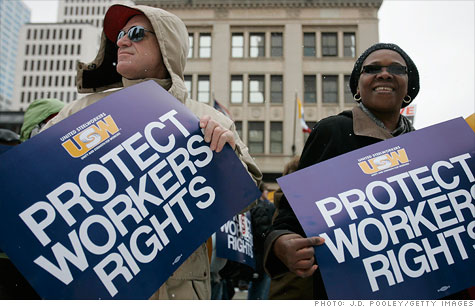 Ohio voters repealed controversial curbs on union collective bargaining rights.
NEW YORK (CNNMoney) -- Ohio residents this week voted to reverse a controversial law that would have limited union bargaining rights in order to help control ballooning state and local government shortfalls.
But in a strange twist, taxpayers in the Buckeye State are already reaping the benefits from the now-defunct law.
In several states, most notably Wisconsin and Ohio, governors and legislators enacted laws curbing public workers unions' collective bargaining rights. The measures prompted huge outcries and sent thousands of union supporters to state capitals to protest the changes.
The laws were billed as a way to help governments control growing payroll costs during the economic downturn. They generally curtailed workers' right to negotiate collectively over wages and other matters, as well as mandated that employees pay a larger portion of their health care and pension costs.
In Ohio, however, residents turned back officials' attempt to limit union rights. On Tuesday, voters repealed the measure known as SB 5 for its bill number in the state senate.
But the law still managed to result in some cost savings for taxpayers because many of its provisions had already been adopted into the contracts that public employees negotiated this year.
That's because many unions rushed to settle their contracts before the November vote, hoping to have somewhat more leeway in the discussions. But the threat of the looming law gave public officials additional power in the negotiations, allowing them to wring more concessions from workers.
"Some of the benefits of SB 5 were felt by school districts before the vote happened," said David Varda, executive director of Ohio Association of School Business Officials.
Certainly, Ohio's unions had already made many concessions as the state suffered during the Great Recession and its aftermath. For instance, many agreed to contribute more toward their health insurance and retirement costs and limited their raises.
But many local and school officials found that this year they were able to obtain even more givebacks from unions, who feared they would face the full power of SB 5 if voters approved it.
"The specter of Senate Bill 5 encouraged early contract settlements and resulted in concessions on the part of unions," said Damon Asbury, director of legislative services at the Ohio School Board Association.
For instance, more school employees were willing to give up pay increases they receive for taking graduate classes or earning advanced degrees, as well as for years spent on the job. Previously, it was more common for them just to forgo traditional raises.
Union workers have touted the amount of concessions they've given up during the Great Recession. Since 2008, they've given back more than $1 billion at the bargaining table, according to a jointly issued report.
"Everybody was willing to do their part," said Michele Prater, spokeswoman for the Ohio Education Association. "We call it shared sacrifice. Obviously we're in a really bad economy."
Not out of the financial woods yet
The state is still reeling from the weak economy, leaving governments cash-strapped at all levels. Counties and municipalities are also being squeezed by reductions in state aid.
With voters reluctant to approve income tax hikes, the main source of funding for local governments, municipalities may be forced to look for additional spending cuts to balance their budgets. The ax could fall hard on police and fire departments, which make up about 70% of local budgets, said Kent Scarrett, legislative representative for the Ohio Municipal League. Cops and firefighters are among the public employees who benefited from Tuesday's repeal.
"Those will be the first folks who will be looked at when budgets need trimming," he said.
Take Lancaster, which last month had to lay off 25 firefighters and other workers as it wrestles with declining revenues and state aid.
City officials and the police unions reached a deal earlier in the year that raised health care and pension contributions to the same level dictated by SB 5. The contract saved the city between $300,000 and $400,000, said Mayor David Smith.
But firefighters and municipal employees chose to wait until after the vote to settle negotiations. The city has already drawn up its budget assuming it will reach comparable deals with these unions. If it doesn't, the layoffs could mount.
"We're skin tight on the budget," Smith said. If the unions don't approve the contracts, "we're going to lose more personnel."