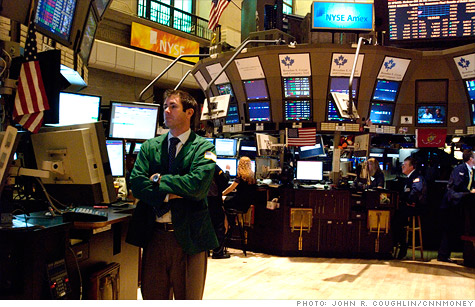 The NYC securities industry is expected to lose 10,000 out of 166,600 jobs by the end of 2012.
NEW YORK (CNNMoney) -- Will MF Global's 1600 employees find gainful employment? Probably not anytime soon.
During what's left of 2011, Wall Street firms are expected to continue cutting employees.
"The timing really couldn't be worse, because firms generally don't hire much, even in great times, at the end of the year," said Alan Johnson, managing director at Johnson Associates, a compensation consulting firm.
Still the question for many of MF Global's employees -- and the thousands of others who were laid off by financial services firms this year -- is if they can ever find jobs on Wall Street again. Many of these lost jobs are unlikely to come back.
"Wall Street will continue to shrink," said Steven Eckhaus, chair of the executive employment practice at the law firm Katten Muchin Rosenman. "Three years from now, there will be half as many jobs as there are now."
Roughly 20% to 25% of MF Global's top performing employees will find employment by early next year. Same goes for the top quartile of the rest of Wall Street's newly unemployed, according to conversations with a half dozen recruiters. But the rest may struggle to find work.
"It's the people in the middle that are being hollowed out on Wall Street. Middle level executives have the most to be concerned about," said Eckhaus.
Financial services firms employed roughly 166,600 individuals in New York as of August 2011. The Office of the NYC Comptroller predicted that 10,000 of those jobs will be gone by the end of 2012.
Some of those will include Bank of America (BAC, Fortune 500) employees. The embattled bank has already announced anticipated cuts numbering 30,000 over an undetermined period of time coming not only from New York but from its corporate headquarters in Charlotte, North Carolina.
Most banks haven't been as candid about layoffs. Barclays (BCS) reportedly got rid of 3,500 jobs by late October, but declined to comment on further job cuts. Goldman Sachs (GS, Fortune 500) and Citigroup (C, Fortune 500) declined to comment on potential layoffs. A spokesperson for JPMorgan Chase (JPM, Fortune 500) said the firm has actually added a net 13,000 jobs this year and declined to comment on future plans.
Still, anecdotally, their workforces appear to be shrinking, and few seem to have the fiscal positioning to add significant numbers of new hires.
"We've seen fairly significant layoffs, and the numbers have been much larger than people anticipated," said Eckhaus.
The debt crisis in Europe and extreme volatility in the market has curbed activity in trading, mergers, acquisitions, and initial public offerings since August. Longer-term, many industry spectators expect that new financial regulations in the US and Europe will continue to force banks to cut staff.
The Volcker Rule, for example, has forced banks to cut desks that trade banks' funds. Ahead of an expected 2012 implementation of this rule, many banks have shuttered these so-called proprietary trading desks.
The one bright spot for hiring on Wall Street: individuals who can help banks and hedge funds comply with the new regulations. "We're seeing lots of hiring for outsourced compliance activity," said Frank Carr, an independent Wall Street recruiter with MJE advisors.
Meanwhile, the Wall street bonus pool is also expected to be scaled back 20% to 30% for 2011, according to Johnson Associates.
For bond traders who normally operate in a lucrative trading niche, bonuses could drop as much as 45%.
But there's no need to shed tears for the employed bankers. Bonuses could be in the hundreds of thousands or even millions for Wall Street's top performers.