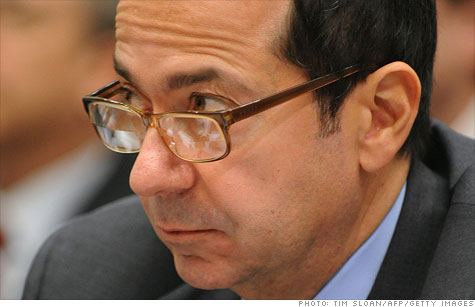 John Paulson's bet on Bank of America helped make his fund among the worst-performing hedge funds of 2011.
NEW YORK (CNNMoney) -- John Paulson was once deemed one of the world's best investors, and Bank of America was the largest bank in the United States.
Now, Bank of America's number two after JPMorgan Chase, and because of his stake in Bank of America, Paulson has been one of the worst performing hedge fund managers of 2011, racking losses of more than 30%.
Still, Paulson increased his $30 billion fund's bet on Bank of America (BAC, Fortune 500) in the third quarter of 2011 by 6.6%, according to regulatory filings.
With roughly 65 million shares and options to buy another 35 million shares, Bank of America is one of Paulson's largest holdings just behind positions in aluminum producer Alcoa (AA, Fortune 500), casino owner MGM Resorts (MGM, Fortune 500) and mortgage insurance firm PMI Group (PMI).
Paulson isn't universally bullish on banks. His fund also disclosed that it decreased its stake in Citigroup (C, Fortune 500) by 22% and sold its entire stake of 4.5 million common shares of JPMorgan Chase (JPM, Fortune 500). The fund is still holding onto JPMorgan Chase options, however.
Hedge funds like Paulson's with major stakes in the financial sector have been battered this year, as Bank of America's stock has dropped 55%. JPMorgan Chase's and Citigroup's share prices have dropped 22% and 40% respectively
Paulson is one of only a handful of hedge funds that are continuing to bet on a turnaround at Bank of America.
Bruce Berkowitz's Fairholme Capital is another. The fund, which hosted a conference call with Bank of America CEO Brian Moynihan earlier this year to have him explain his strategy for the bank, upped its stake by 5% and now holds 105 million shares.
Berkowitz turned his back on other areas of the financial sector though. The fund cut its position in Citigroup by 5% and sold nearly all of its 12 million shares of Morgan Stanley (MS, Fortune 500) and 6 million of Goldman Sachs (GS, Fortune 500).
Of course, Bank of America landed perhaps the most famous investor earlier this year when Berkshire Hathaway's (BRK-A) founder Warren Buffett made a $5 billion investment in the struggling bank in late August. Unlike Paulson and Berkowitz, Bank of America granted Buffett preferred shares rather than common stock.
Buffett's stake in Bank of America provided a brief lift to the company, as he famously refused to take a position in Lehman Brothers ahead of its bankruptcy but buffered Goldman Sachs in 2008 during the height of the financial crisis.
On Monday Buffett announced a position that surprised Wall Street more than his bets on banks. He disclosed several positions in technology stocks -- including IBM (IBM, Fortune 500) and Intel (INTC, Fortune 500). Buffett has famously avoided the sector for most of his career.
But not everyone is betting on a Bank of America rebound.
David Tepper's hedge fund Appaloosa Management, meanwhile, exited its entire stake in Bank of America. It also sold all its shares of Wells Fargo (WFC, Fortune 500), two-thirds of its position in Citigroup and roughly 43 million of its 44 million shares of eTrade (ETFC), the online trading platform.
Appaloosa was also in the middle of one of the more unusual disclosures Monday as hedge funds filed their holdings with the SEC after the close of trading.
Two days after MF Global (MFGLQ) filed for bankruptcy protection, Appaloosa bought up roughly 17.4% of MF Global's shares on November 2, 2011, according to a regulatory filing.
As MF Global is still struggling to find $600 million missing customers' accounts, it appears unlikely that there will be anything left for MF Global creditors, much less its equity holders. Appaloosa did not return calls for comment.