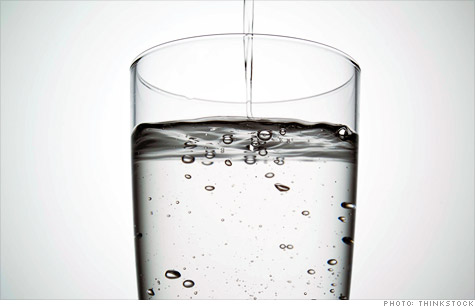 Spurred by a public backlash, the oil industry is sourcing fracking substances from the food industry and purifying water in an effort to make the process cleaner.
NEW YORK (CNNMoney) -- Last summer a Halliburton executive did the unthinkable: He took a big ol' swig of hydraulic fracturing fluid.
No, he didn't have a death wish. And yes, he appears to be doing just fine. He did it to prove a point: fracking fluid need not be toxic.
What the exec drank was a new formulation of fracking fluid made with ingredients sourced from the food industry rather than the chemical industry.
As public concern over the controversial practice of fracking mounts, Halliburton and a host of other companies are racing to fill a major void: finding a way of cracking rock to unlock oil and natural gas that is also environmentally benign.
There are still a host of concerns surrounding fracking that aren't addressed by changing the fluid or purifying the water. But as more firms bring innovative technologies to market, chances grow that this technology might someday be embraced by the general public.
Fracking fluid from the food industry: Halliburton announced its new fracking formulation earlier this year to relatively little fanfare.
Traditional fracking fluids rely of hydrochloric acids and other chemicals that allow the industry to crack shale rock. The technology has unleashed a boom in domestic energy production, but it's also raised concerns over water contamination.
Halliburton's new fracking formula and methods "don't quite call for the downhole delivery of fruits and vegetables," the company's web site reads. "But it does rely on some of the same acids and enzymes present in those items to create one of the most innovative and environmentally safe fracture solutions ever conceived."
Halliburton (HAL, Fortune 500), which is one of the world's largest hydrofracking companies, wouldn't say how many of the wells it works on have used the new formula or how much more it costs compared to a traditional frack job.
But it pointed to a well operated by the El Paso (EP, Fortune 500) natural gas company in North Louisiana as the first last May to employ this new fluid and two other innovative fracking measures designed to protect the environment.
Halliburton is hardly alone in this quest to make fracking safer. And as with any emerging technology, many small, nimble firms are also taking up efforts to clean up the fracking process.
San Diego-based Verenium (VRNM) is a company that makes enzymes primarily for the biofuels and chicken feed market.
But it has recently branched into fracking, developing an enzyme that replaces hydrochloric acid normally used to eat away at guar, a foam the industry uses that initially helps pry the rock open.
"You spill an enzyme on your hand and nothing happens, it doesn't eat it off like an acid would," said Verenium chief executive James Levine. "And it's not like you have to sacrifice performance, you can get both."
Levine also wouldn't elaborate on costs, but said he can deliver a product that's competitive with anything out there.
He said he has one major fracking firm that's experimenting with his product, but declined to provide any more details.
He noted that replacing hydrochloric acid with an enzyme doesn't take all the potentially harmful chemicals out of frack fluid, but it's a start.
Companies are also working on cleaning up waste water associated with fracking.
In addition to the harmful frack chemicals oil companies put down the wells, they also pull out some pretty nasty stuff.
The water that's found at the depth the industry drills to is often extremely salty and laced with naturally occurring heavy metals and radioactive isotopes.
Disposing of this waste water has been a challenge. Reports have indicated that some frack water has previously been improperly treated before being dumped into rivers that are also used a source for drinking water.
Fountain Quail, a division of Calgary-based Aqua Pure, which bills itself as the "premier recycler of industrial wastewater in North America" says it too is now getting in on the fracking game.
The company has built a small, transportable machine that uses natural gas to boil the waste water from fracking operations.
It's a closed loop-process, meaning that the steam created is in turn used to reheat the next batch of water, resulting in an efficiency rate 40 times greater than just boiling water on a stove.
The end result is water that meets federal drinking standards, and a solid waste product that can be transported to a proper landfill.
The clean water can be used again in fracking operations, resulting in what the company says is a 90% reduction in truck traffic serving the drill sites. Truck traffic is a major concern among people living in areas where fracking is widespread.
"Every barrel of salt water that we recycle is a barrel of fresh water that doesn't have to be taken from the environment," said Brent Halldorson, Fountain Quail's chief operating officer.
Halliburton also has a technology that uses electricity as the purification agent.
"Companies are looking at water as a strategic resource, and that's cascading into innovation," said Will Sarni, director of enterprise water strategy at Deloitte Consulting. "Sustainability is a huge driver."
But is it any safer? Environmentalists regard the new technologies as welcome but unproven.
"It's good news that companies are trying to innovate and develop products that are more environmentally friendly," said Amy Mall, a policy analyst for the Natural Resources Defense Council. "But we need third party verification of these claims."
Mall noted that other problems associated with fracking remain, such as the migration of natural gas unlocked by the fracking process up water well holes.
It's this gas migration, whether caused by the fracking process or not, that's led to the dramatic images of people's tap water catching fire.
There have also been recent reports suggesting fracking is behind a series of earthquakes in Oklahoma, England and elsewhere.
Still, for an industry under fire from the public and politicians alike, any attempt to make the process safer is bound to be welcome.