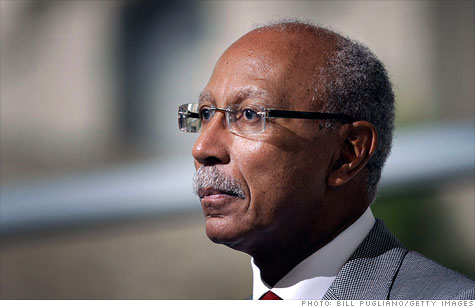 Detroit Mayor Dave Bing announced major layoffs on Friday.
NEW YORK (CNNMoney) -- Facing a $45 million cash shortfall, Detroit Mayor Dave Bing announced Friday the city would eliminate 1,000 positions by the end of February.
The layoffs represent 9% of the city's workforce and will save Detroit about $14 million. Notices will go out starting the week of Dec. 5.
"Solving our cash crisis requires a combination of concessions and tough cuts," said Bing, who has eliminated 2,000 positions since he took office in 2009. "Layoffs will be strategic. We will limit the impact on residents, protecting core services like police and fire protection as much as we can."
Also, the mayor ordered a hiring freeze for all civil service positions other than in the water and sewerage department.
Earlier this week, Bing outlined the concessions he's seeking from the city's unions. The measures would save about $40 million and prevent an emergency manager from running Detroit.
They include: eliminating furlough day, but implementing a 10% across-the-board pay cut for all employees who haven't had their wages reduced already; increasing employee contributions to health care coverage by 10%; reforming pensions and work rules, and laying off additional staffers.
The mayor also wants a tax rate increase of less than 1% on corporations in Detroit starting in 2012.
Without major changes, the city could go into default, said David Littmann, senior economist with the Mackinac Center for Public Policy. Going into default could result in the shutdown of public works such as garbage collection and public transportation.
If the mayor's proposal is not approved, Detroit will "100%" file for bankruptcy, he said. If the city fails to overhaul its budget, it's not a matter of if ... it's when.
Katy Byron, CNN Business Producer, contributed to this report.