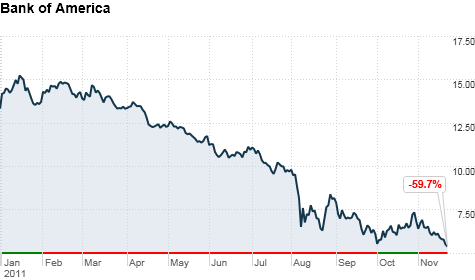 Bank of America's shares are hovering near 2-year-lows
NEW YORK (CNNMoney) -- It's time for Bank of America to start wrestling with some existential questions.
The embattled financial institution's share price, already down 59% this year, hovered near its 2-year-low of $5.13 on a report in The Wall Street Journal that it was having difficulty meeting U.S. financial regulatory requirements.
The Charlotte, North Carolina, bank declined to comment on the story. During a press conference Tuesday morning, Martin Gruenberg, the acting chairman of the Federal Deposit Insurance Commission, also declined to comment.
"It's very difficult to appeal to regulators until they themselves can communicate their own corporate vision," said Josh Siegel, a managing director of StoneCastle Partners, a private equity firm focused on community and commercial banks with $2 billion under management.
"They need to decide how they want to position themselves and determine what they want to hold," said Siegel, who was not aware of any of Bank of America's discussions with regulators.
But as investors continue to sell Bank of America's (BAC, Fortune 500) stock, several financial M&A advisors said it's now possible that Bank of America could put more assets up for sale.
The bank is currently only holding active sale processes for its credit card business in the United Kingdom and Ireland, according to a Bank of America spokesperson. He declined to comment on other potential sales.
And while Bank of America may not be holding auctions for assets, that hasn't stopped Wall Street investment bankers from speculating that the company could consider a wide range of sales of non-core businesses.
"Banks are going to be reluctant to conduct auctions," said Jerry Wiant, managing director of RBC's financial institutions group. "What's more important is certainty and expediency of closing a deal, so banks are more inclined to reach out to a single party or be approached by a single party to get a deal done."
For Bank of America, sales of various business lines could put the financial institution in a better position to meet various U.S. and international risk regulations.
Among the potentially most interesting BofA assets to buyers: loan portfolios, including credit card loans, mortgage loans and auto loans.
"You can meet capital requirements by either raising capital or shrinking risk weighted assets," said Wiant. "Nobody wants to raise capital at these prices."
That could be especially true now that the Federal Reserve said late Tuesday that BofA, along with five other large U.S. banks, will need to give the Fed loss estimates early next year that accounts for a "hypothetical global market shock."
The other five banks are Citigroup (C, Fortune 500), Goldman Sachs (GS, Fortune 500), JPMorgan Chase (JPM, Fortune 500), Morgan Stanley (MS, Fortune 500) and Wells Fargo (WFC, Fortune 500).