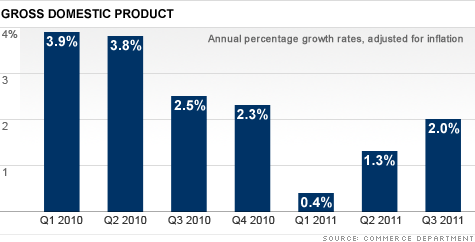 The nation's economy grew at a 2.0% annual rate in the third quarter, the Commerce Department reported Tuesday.
NEW YORK (CNNMoney) -- The economy didn't fare as well as originally thought between July and September.
Gross domestic product, the broadest measure of the nation's economic output, grew at a 2.0% annual rate in the quarter, the Commerce Department said Tuesday. That's down from 2.5% growth originally reported last month.
The government typically revises its GDP estimates twice, and Tuesday's report is the first revision to the third quarter figure.
"Usually, the second shot at GDP will bring about some significant changes," said Jennifer Lee, senior economist with BMO Capital Markets. "I don't think we should be too shocked."
On the bright side, even 2.0% growth marks a pick-up from the second quarter, when the economy grew at a mere 1.3% rate.
The weaker reading came as businesses drew down their inventories by $8.5 billion, the first quarterly drop in inventories since the end of 2009. Previously, the government had reported businesses increased their inventories by $5.4 billion.
"It just shows that the business side is much more careful with their investment and how much inventory they're keeping on the shelves. They are staying lean and mean," Lee said.
Business spending boosted growth, albeit not as much as originally thought. Investment in equipment and software grew at a 15.6% annual rate, down from a 17.4% rate originally reported.
Meanwhile, a pick-up in consumer spending remained a major driver of economic growth, but was revised slightly lower to a 2.3% growth rate in the third quarter. That's still much stronger though than sluggish 0.7% growth in the prior quarter.
Corporate profits were up 7.9% year-over-year in the third quarter -- a slowdown from an 8.5% rise in the 12 months ending in the second quarter.