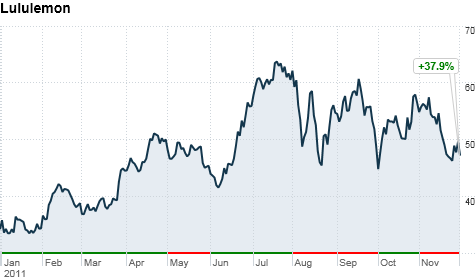 NEW YORK (CNNMoney) -- Lululemon's pricey yoga pants and stock have been the hot ticket items to have, but that opinion is beginning to sour.
Shares of Lululemon (LULU) tumbled 5% Thursday, after the workout gear retailer's third-quarter sales growth missed analyst expectations. The Vancouver-based retailer's sales rose 31% during the quarter to $230 million, but Wall Street analysts were looking for 34% year-over-year sales growth.
The miss was just enough to spark a sell-off in Lululemon's shares, which have climbed more than 37% in 2011, even while sporting sky-high valuations between 40 and 50 times earnings estimates.
"Lululemon was one of the most expensive stocks in the retail sector, and has been setting itself up for a day like today," said David Abella, portfolio manager and analyst at Rochdale Investment Management, a New York-based firm that shed its position in Lululemon during the third quarter.
"It was a momentum stock that now looks like it's lost its momentum," he added.
Whitney Tilson, managing partner at the hedge fund T2 Partners, which holds a short position in Lululemon, also thinks Thursday's slide may be a turning point in the retailer's stock.
"There's a psychological satisfaction to have a short like that work out," said Tilson at the Bloomberg Hedge Fund conference in New York Thursday. "It's incredibly satisfying when you get it right."
If Tilson continues to "get it right," Lululemon will be the latest of the hot momentum stocks to fall into a tailspin this year, following in the footsteps of Netflix (NFLX), Green Mountain Coffee Roasters (GMCR) and OpenTable (OPEN).
Lululemon's stock started its surge in 2009, as the broader stock market recovered and the company's same-store sales figures, a key metric for retailers, began to shine.
The company has such a loyal fan base that same-store sales growth was above 25% throughout 2010, a year when its stock more than doubled. But those outstanding numbers have failed to last.
Sales at stores open at least a year rose only 16% last quarter, down from 20% during the second quarter. And Lululemon's forecast for the current quarter is even weaker. The company said it expects sales to increase at a percentage in the "low to mid-teens" during the fourth quarter.
Abella said that while that's still strong compared to other retailers, it's not "good enough" to justify the stock's lofty price. He said Lululemon's stock, which is down to about $47 per share after Thursday's drop, would be attractive after another 25% decline, around $35 per share.
-- CNNMoney's Maureen Farrell contributed to this article.