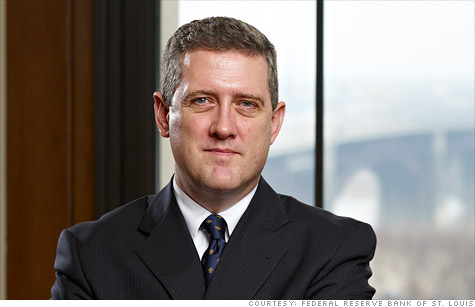 St. Louis Federal President James Bullard has constantly warned investors to not expect another round of bond purchases, or a so-called QE3, just yet.
NEW YORK (CNNMoney) -- Investors clamoring for another round of Federal Reserve bond buying need to root for a blue Christmas. That's according to St. Louis Fed President James Bullard, a self-described inflation hawk and influential member of the central bank.
Bullard said at a Bloomberg hedge fund conference in New York Thursday that the Federal Reserve should get a read on the holiday season before making a decision on so-called third round of quantitative easing or QE3.
In other words, don't expect any quantitative easing in 2011.
Bullard, who is not a voting member of the Fed's policy committee this year or in 2012, said he does not expect the U.S. to return to a recession unless the situation in Europe gets worse quickly. "You all are worried about a complete meltdown in Europe and you should be," said Bullard.
But he predicts that the European crisis will drag on rather than blow up in the short-term. "It can probably roll on for a long time," said Bullard. "Italy can withstand high interest rates."
If the EU crisis does worsen rapidly, what else might the Federal Reserve do to stem further problems in the US economy? Bullard said to look to 2008. "The first step would be to use battle tested things we've used before."
As Federal Reserve chairman Ben Bernanke has done many times recently, Bullard emphasized the limits of monetary policy and instead called on politicians to be the first responders. "Governments have borrowed way too much. You should not expect the crisis to be solved with a silver bullet."
The one move Bullard urged politicians and bankers not to take to solve problems: currency deflation. "The message I want to get across to you is that devaluing your currency is a method of defaulting," said Bullard. "Inflation is a bad method of defaulting because you'll pay an inflation risk premium in the future when you're trying to borrow."
He said he supports Bernanke's decision to work with other banks to support the global economy. That was done Wednesday when central bankers' coordinated moves made it easier to swap other currencies for dollars.
Bullard said that former European Central Bank President Jean-Claude Trichet said such dollar swap lines were vital in 2008 and 2009. "And we're probably coming into something like this again," he said.