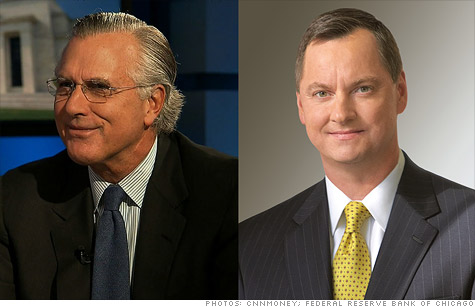 Regional Federal Reserve Presidents Richard Fisher of Dallas (left) and Charles Evans of Chicago (right) disagree on how the central bank should help the economy.
NEW YORK (CNNMoney) -- Is the glass half full or half empty, when it comes to the U.S. economy? It depends which Federal Reserve official you ask.
At one end of the spectrum, so-called inflation hawks like Dallas Fed President Richard Fisher think the recovery is building momentum and the Fed should refrain from further accommodative policies.
Speaking at Columbia University in New York on Tuesday, Fisher said he believes the Fed has already "done too much" to try to boost the economy.
Hoping to keep borrowing cheap and stimulate spending, the Fed has kept interest rates at record lows since December 2008, and recently pledged to keep them there until at least mid 2013. Over the last few years, the central bank has also launched two rounds of major asset purchases, called quantitative easing, and recently initiated a program known as Operation Twist, with hopes of bringing long term interest rates even lower.
While Fisher and some of his colleagues dispute the effectiveness of those policies, others at the Fed think the central bank needs to do even more. And their calls for stimulus seem to be growing louder.
Chicago Fed President Charles Evans for example, said Tuesday that he wants the central bank to do more to help the job market and the housing sector.
"We should be behaving as if there's a very big problem out there," Evans said, speaking at the Council on Foreign Relations in New York.
The Federal Reserve has two key goals: to maintain stable prices and also maximize employment.
Inflation is currently not considered a major threat. Hovering at 1.6% year-over-year, according to the Fed's preferred measure of prices, the inflation rate falls just below the central bank's unofficial target of 2%.
But the jobs goal is an entirely different story. The unemployment rate has been stuck at or above 9% for all but two of the last 30 months, far higher than the 6% rate that Fed economists suggest would indicate a "normal" labor market.
Because of that imbalance, Evans wants the Fed to shift its focus to jobs, pledging to keep interest rates low until the unemployment rate falls to 7%.
Fisher, however, argues there may be little the Fed can do to directly aid the job market, so perhaps it should drop that goal altogether.
Evans also said he would be "interested" in further purchases of mortgage-backed securities, as a way to further support the housing market. That's an idea recently advocated by Fed Governor Daniel Tarullo.
New York Fed President William Dudley has also recently pushed for an "urgent effort" to prop up the housing market, and Fed Governor Janet Yellen -- Ben Bernanke's second in command -- has said further asset purchases could be necessary to help the economy.
Chiming in with his own viewpoint Tuesday, San Francisco Fed President John Williams said he too supports further asset purchases as a way to boost the economy.
Meanwhile, James Bullard of St. Louis called further asset purchases a "potent tool" but cautioned that they must be used carefully. If they're not sold back at the appropriate time, they could spark inflation, he said.
The varying viewpoints highlight the debate within the Federal Reserve. At the Fed's last policymaking meeting just two weeks ago, Evans dissented because he felt the central bank wasn't doing enough to get the economy back on track.
But at the two prior meetings, Fisher, Charles Plosser of Philadelphia and Narayana Kocherlakota of Minneapolis all dissented because they opposed further Fed stimulus.