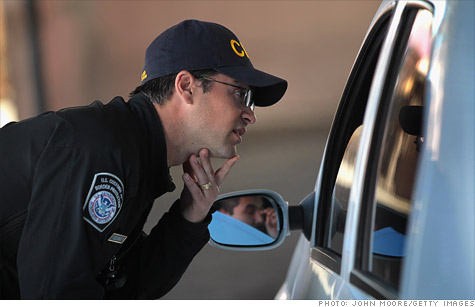 Federal employees are once again staring down a pay freeze and possible workforce reduction.
NEW YORK (CNNMoney) -- When it comes to extending the payroll tax holiday, somebody's gotta pay.
And it looks like federal workers could end up footing the bill.
The payroll tax holiday that has been dumping extra cash into the paychecks of American workers is set to expire at the end of the year. Congress is now working to extend it.
But Republicans aren't willing to extend the tax cut without cutting federal spending by a corresponding amount. It's called a "pay for" in Washington.
And naturally, Democrats and Republicans have very different ideas about where that money should come from.
Republicans introduced a bill Wednesday that would extend the current two-year federal pay freeze by an additional three years, and mandate a 10% reduction in federal jobs -- about 200,000 positions.
For government workers, the prospect of additional cuts come at a time when they're already feeling picked on. Late last year, President Obama requested, and Congress approved, a two-year pay freeze for federal workers.
"I did not reach this decision easily. This is not a line item on a federal ledger; these are people's lives," Obama said at the time.
The prospect of seeing their compensation whacked twice -- and fewer jobs -- has the unions seeing red.
"Congress shouldn't be talking about cutting hundreds of thousands of middle class federal jobs while our economy is on the brink -- they should be fighting to save every last one," William R. Dougan, president of the National Federation of Federal Employees said in a statement.
Just who are these workers? According to government data, average employees are likely to be in their mid-40s.
They work in management, business or financial positions at the Department of Defense, Veterans Affairs or Homeland Security.
They tend to have graduated from college, live outside of Washington and are white. They make around $74,000 a year.
The Republican plan also finds some quarters in the couch by prohibiting millionaires from receiving unemployment benefits or food stamps. And it requires millionaires to pay full fare for Medicare Part B and Part D.
According to the GOP, 2,360 tax filers with adjusted gross incomes over $1 million received a total of $20.8 million in unemployment benefits in 2009.
Obama and Senate Democrats have proposed to pay for their expanded payroll tax cut -- estimated to cost roughly $265 billion -- by imposing a surtax on millionaires.
Republicans have made it clear a millionaire surtax is a non-starter -- and so the game of chicken continues, with more votes on the issue expected this week.
But federal workers say they're already maxed out.
"Enough is enough," Dougan said. "Federal workers have already sacrificed with a two-year pay freeze and trillions in cuts to agency budgets -- cuts that could result in forced retirements and reductions in force."