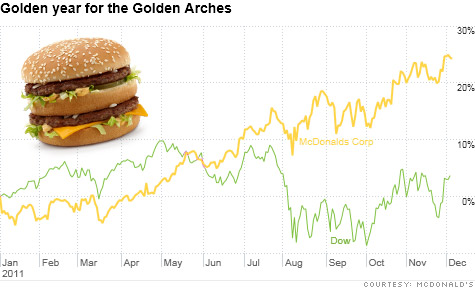 Shares of McDonald's have trounced the broader market this year. And analysts and fund managers think the stock still looks las attractive as a tasty burger.
NEW YORK (CNNMoney) -- A consumer stock with big exposure to Europe sounds like the worst possible investment imaginable, right? Guess again.
McDonald's (MCD, Fortune 500), which generated 40% of its total sales from the beleaguered continent in the first nine months of the year, has been one of the hottest stocks of 2011. Shares are up nearly 25% this year.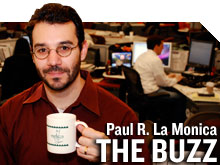 The only stock in the Dow Jones industrial average to do better than McDonald's is IBM (IBM, Fortune 500). Mickey D's hit an all-time high on Monday.
If you've been invested in the stock for a while, you could probably afford some golden arches made of real gold to put on your front lawn.
I last wrote about McDonald's in August 2010. It was a good value at the time -- and even though it's up nearly 40% since then, several investors and fund managers still think it looks attractive. Here's why.
Royale with cheese: Europe is a problem for the global financial markets. But while more sovereign debt headaches for the PIIGS, France and Germany may lead to problems for banks, McDonald's should continue to hold up well across the Atlantic.
In October, McDonald's reported that same-store sales, a key measure for restaurants and retailers that shows revenue at locations open at least 13 months, rose a healthy 4.8% in Europe. Worldwide, same-store sales rose 5.5%. McDonald's will report November sales figures on Thursday, Dec. 8.
David Tarantino, an analyst with Robert W. Baird & Co. in Milwaukee, wrote in a report Tuesday that he thinks sales growth slowed only slightly in Europe -- to 4.5% -- due to the volatility. (I love that the analyst has the same surname as the director responsible for the most famous movie scene about McDonald's.)
Simply put, because McDonald's is hardly a luxury retailer, it may appeal to cost-conscious consumers at times of financial stress, whether you're pinching pennies or euros.
"Europe sales may slow a bit but should remain strong," said R.J. Hottovy, an analyst with Morningstar in Chicago. "We looked at other periods of economic softness in Europe and generally there is no strong correlation showing sales weakening at McDonald's during a cyclical downturn."
Skinner! Tarantino (David, not Quentin) wrote in his report that he thinks sales in the U.S. likely increased by 5.5% in November thanks to a limited time return of the cult favorite McRib sandwich and several new coffee offerings.
It's important to remember that McDonald's has done a splendid job of expanding its menu beyond burgers in the past few years under CEO Jim Skinner. The McCafe line of drinks has become a viable cheaper-priced alternative to Starbucks (SBUX, Fortune 500).
"McDonald's management team has turned around the company and raised the quality of the stores," said Jason McPharlin, manager with the Rushmore Equity Income portfolio in Plano, Tx. His firm owns shares of McDonald's.
The revamping of Mickey D's has not been limited to the United States either. Hottovy noted that many McDonald's restaurants in Europe have been spruced up to become more modern-looking. That should also protect the company even if Europe does head into recession as many expect.
No clown-like valuation: The strong fundamentals for McDonald's would not matter if the stock was as expensive as McDonald's spin-off and current Wall Street darling (and favorite of the numerous Gen Y-ers in the CNNMoney newsroom) Chipotle (CMG).
McDonald's trades at a little more than 16 times 2012 earnings estimates. That's not Dollar Menu-cheap considering that earnings are expected to rise at just a 10% clip on average for the next few years.
But Chipotle, which is admittedly growing at a much faster rate, is trading at 38 times 2012 forecasts. Another of McDonald's top rivals, KFC, Pizza Hut and Taco Bell owner Yum! Brands (YUM, Fortune 500), is trading at 18 times earnings estimates.
McPharlin said the slight premium for Yum may be due to its big presence in China. Yum actually generates more revenue from China than in the U.S. (Perhaps Colonel Sanders should be replaced by General Tso?)
John Snyder, manager of the John Hancock Sovereign Investors Fund (SOVIX) In Berwyn, Pa., added that McDonald's may have a chance to catch up with Yum in China and other parts of Asia. And that could give a boost to Mickey D's stock. McDonald's is a holding in the fund.
Sales in what McDonald's call its APMEA (Asia-Pacific, Middle East and Africa) division account for just 22% of overall revenue. Clearly, there is room for growth. Latin America could be another big market to target.
In fact, a Buenos Aires-based McDonald's franchisee, Arcos Dorados (ARCO), went public earlier this year and its stock has done reasonably well.
"McDonald's is a global story with lots of opportunities out there. It's not like they have saturated the world just yet," Snyder said.
Can I get a dividend with that? Finally, there's the fact that McDonald's stock pays a steady dividend that yields nearly 3%. That's almost a full percentage point higher than what you'd get from holding a 10-year Treasury note or Yum ... which has a dividend that also yields about 2%.
Of course there are risks. If the problems in Europe get significantly worse and consumers really pull back on spending there, that will hurt. It's also uncertain whether Americans will continue to be in the mood to spend on restaurant food.
McPharlin said one potential bad sign for McDonald's is the weak outlook Tuesday from Darden Restaurants (DRI, Fortune 500), the parent company of the Olive Garden and Red Lobster chains. Darden's stock plunged 11% following the earnings warning.
Still, while nobody would confuse Red Lobster with Le Bernardin, there is a decent price difference between casual sit-down chain fare and fast food like McDonald's. In other words, the Golden Arches should remain golden as long as the economy doesn't completely collapse.
"Sure, there could be a pullback but it's one of our favorite stocks for volatile markets," Hottovy said. "McDonald's generally has a solid track record even in choppy years."
Best of StockTwits: Standard & Poor's put Europe on notice late Monday. Traders are taking the news in stride though. S&P may actually have less credibility in the eyes of investors than European leaders.
infovestment: someone should start rating the rating agencies, based on their track record; it might turn out that their ratings are worthless LOL $EURUSD
ToddSullivan: I'm amazed that after f'ing up ratings for most of the last decade anyone still puts any credence in anything the ratings co.'s say.
valuewalk: I have made $BILLION mistakes in calculations. Does that qualify me to work for S&P? or does it need to be over $2TRILLION? $MHP
I hear you. I ranted about S&P in today's Buzz video. It does seem like ratings agencies are now trying to act tough to reconcile for the sins of the Naughty Aughties when subprime junk was given investment grade status.
The opinions expressed in this commentary are solely those of Paul R. La Monica. Other than Time Warner, the parent of CNNMoney, and Abbott Laboratories, La Monica does not own positions in any individual stocks.