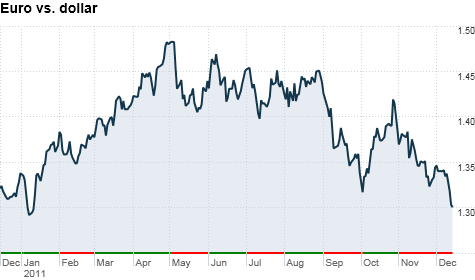 Click chart for more currency data.
NEW YORK (CNNMoney) -- The euro fell to its lowest level since mid-January, easing below the key $1.30 mark Wednesday, as any enthusiasm over Europe's most recent "solution" has cooled.
"This has been a difficult trading year," said Brown Brothers Harriman currency strategist Marc Chandler. "There's more room to the downside."
The euro was trading at $1.2975 and Chandler said next year, it could go below $1.25. It hasn't traded this low since Jan. 11, when Japan pledged to buy eurozone bonds in an effort to stop the debt crisis from spreading.
"We're looking at a protracted economic downturn in Europe," said Chandler. "I'm generally optimistic about the dollar, but (only) out of default because the U.S. looks better than Europe."
Last Friday, European leaders hashed out a 'fiscal plan' aimed at resolving the crisis. All 17 eurozone members signed on, with the bulk of the remaining European Union members indicating they were interested as well.
But various parliaments still need to give their approval, and cracks have started to emerge.
"It is very important, what they've done, but it's just one tiny element of what needs to be done," said Merk Funds CEO Axel Merk.
A key part of Friday's deal called for eurozone members to contribute €200 billion more to the International Monetary Fund. But some government leaders have voiced their reluctance to sign on.
Furthermore, the overall plan would require a number of treaty changes and, once again, some countries are balking. According to news reports, opposition leaders in Ireland are calling on Prime Minister Enda Kenny to hold a public referendum on the deal.
"The deal may be unraveling around the edges," said Chandler.
While that may be true, Merk pointed out, "Europe has always behaved this way. The only difference is the world is watching them."
Meanwhile, the euro will likely keep weakening, but both Chandler and Merk don't see that as a negative. The euro has been much weaker than its current level, falling to $1.18 just 18 months ago. That's the same level it traded when it debuted as a currency on Jan. 4, 1999.
Merk said the biggest challenge for the euro is "a lack of process." He said European leaders need to have a mechanism in place that includes fiscal sustainability and a more integrated bank system. Ultimately, he said, "the market needs sustainable budgets."