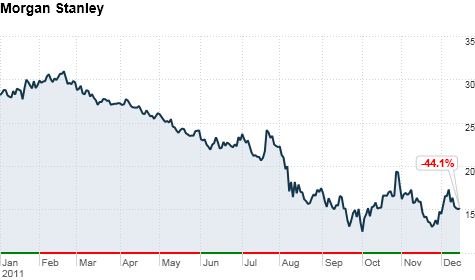 Morgan Stanley's shares have dropped roughly 45% in 2011.
NEW YORK (CNNMoney) -- Adding to Wall Street's job woes, Morgan Stanley announced Thursday that it plans to cut 1,600 positions in the first quarter.
The layoffs will impact "all job levels," said the company in a statement.
Thursday's announcement marks a sharp turnaround for the firm, which has been one of the few major Wall Street banks that had not announced any layoffs this year.
With Morgan Stanley's (MS, Fortune 500) planned cuts, the tally of job cuts announced by major investment banks in 2011 has now topped 80,000.
Citigroup (C, Fortune 500) was the most recent bank to increase its planned cuts, announcing in early December that it intends to lay off 4,500 workers in early December.
Bank of America (BAC, Fortune 500) previously announced plans to reduce its workforce by 30,000. UBS (UBS) and Barclays (BCS) have each announced cuts of roughly 3,500 employees. And Goldman Sachs (GS, Fortune 500) has said it plans to eliminate 1,000 positions.
Morgan Stanley's stock is down roughly 45% from the start of the year. Nearly every major bank has inked double digit drops in 2011, as investors fear the sector's exposure to European sovereign bonds.
For those Wall Street employees who do keep their jobs, they won't see the same compensation they did last year. Salaries and bonuses are expected to fall between 20% and 30% this year.