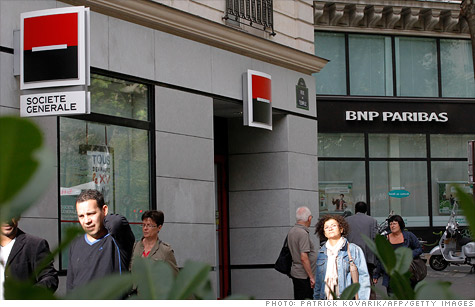 Societe General and BNP Paribas are two of the big banks downgraded Thursday by the ratings firm Fitch.
NEW YORK (CNNMoney) -- The ratings firm Fitch downgraded a cluster of the world's largest banks Thursday, pointing to trading challenges facing international markets.
The banks included Bank of America (BAC, Fortune 500), Morgan Stanley (MS, Fortune 500) and Goldman Sachs (GS, Fortune 500), as well as Europe's Barclays, Societe Generale and BNP Paribas.
Germany's Deutsche Bank and Switzerland's Credit Suisse were also downgraded.
It was the third major credit rating agency to downgrade global financial institutions since September.
"These actions culminate a broader, global review of financial institutions," the ratings firm said in a written statement.
Managing Director Thomas Abruzzo added that the downgrades reflect "fundamental risks in the global trading bank environment."
Abruzzo noted that for Bank of America, Thursday's move reflects "particularities of the firm's business" -- notably issues arising from "legacy acquisitions," such as Merrill Lynch and Countrywide.
Bank of America futures shrugged off the news Friday morning, rising more than 1% in premarket trading. Whereas shares of Goldman Sachs declined 1%.
BNP shares rose 1% on the CAC 40 (CAC40) in Paris, while Soc Gen declined modestly Friday morning. On the DAX (DAX) in Frankfurt, shares of Deutsche Bank rose slightly.
Last month, Standard & Poor's downgraded the credit ratings of 15 banks.
In September, Moody's Investors Services also announced downgrades to Greek and French banks. Another 12 banks in the UK were downgraded in October.
Financial institutions have faced difficult times worldwide, with investor concerns largely focused on the exposure banks may have to the European debt crisis.