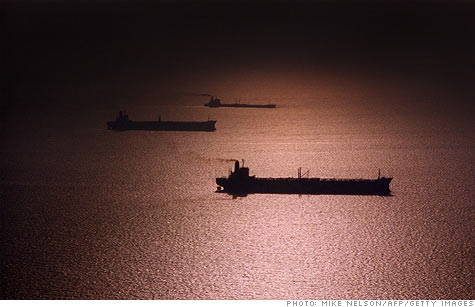 Iran said Tuesday that 'not a single drop of oil will pass through Hormuz Strait' if its own oil exports are cut off by the West.
NEW YORK (CNNMoney) -- Oil prices jumped over 2% Tuesday, crossing the $100-barrel-mark after Iran threatened to choke off the flow of oil passing through the Strait of Hormuz.
The Iranian threat came in response to a recent tightening of Western sanctions against Iran that attempt to limit the amount of oil that country can export.
"If Iran oil is banned, not a single drop of oil will pass through Hormuz Strait," Iran's 1st Vice President Mohammad Reza Rahimi said Tuesday, according to the Iran State News Agency.
Iran is also currently conducting Naval exercises in and around the Strait.
Over 15 million barrels of oil a day passed through the Strait in 2009, according to the U.S. Energy Information Agency. That's about a sixth of the world's total oil production and a third of all oil traded worldwide. EIA calls it the "world's most important oil chokepoint."
Most of the oil passing through the strait goes to Asia, but because oil is a globally traded commodity, a shortage of oil in any one place impacts oil prices worldwide.
Analysts note that with escalating tensions in the Persian Gulf the potential exists for an accident or some other event to lead to a full scale war.
"We are in a situation where there is essentially no communication between the Iranian government and the U.S. government," Trita Parsi, president of the National Iranian American Council, told CNN Monday after reports said Iranian military forces confronted a Western helicopter near the Strait. "It is very worrisome."
Iran has been sparring with the West over its nuclear program for years. Iran says its uranium enriching activities are for peaceful purposes, but many Western governments suspect they are intended to produce a weapon.
Last month the Obama administration upped the pressure on Iran by declaring its central bank a threat, which many analyst took as a prelude to an attempt to cut off Iran's oil exports entirely.
Iran, the world's third-largest oil exporter, conducts its oil export business through its central bank.
It's thought that Washington and other Western governments would love to put additional pressure on Iran by threatening its oil industry, but they are mindful of the impact that may have on oil prices.
Investment bank Merrill Lynch predicts a $40 rise in oil prices if the country's 2.2 million barrels day of crude are shut off completely.
Prices could spike much higher if Iran tries to disrupt oil tanker traffic flowing through the Strait of Hormuz, although it's unclear how long the spike would last.
Iran attacked ships passing through the Strait during the 1980s in an attempt to cut off Iraq's oil exports when those two countries were at war. The impact on prices was minimal however after foreign navies began escorting oil tankers through the Strait.
Many experts say Iran would only have limited success in blocking the Strait for an extended period of time as many governments maintain a naval presence in the region, notably the United States.