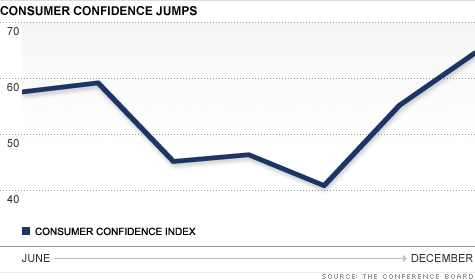 NEW YORK (CNNMoney) -- Consumer confidence shot higher for the second month in a row in December, according to a survey from The Conference Board.
The research firm's overall confidence index, released Tuesday, jumped 9.3 points to 64.5. The increase follows a 14.3-point rise in November.
"After two months of considerable gains, the index is now back to levels seen last spring," said Lynn Franco, director of the group's research center. "Consumers are more optimistic that business conditions, employment prospects and their financial situations will continue to get better."
Still, Franco cautioned that it's too soon to tell if the year-end optimism is simply a rebound from declines earlier this year or a sustainable shift in attitudes.
The jump of almost 24 points since October is the biggest two-month increase since March 1991, when consumer confidence got a shot in the arm from the quick U.S. victory in the first Gulf War. But the recent increases follow sharp declines that occurred from July through October as both economists and the general public became worried that the U.S. was at risk of falling into a new recession.
"When we get to our low point in October, that was probably overdoing it," said Tim Quinlan, economist with Wells Fargo Securities, who said that reading was below the levels of the 2001 and 1990 recessions. "I don't think things were that bad then. I don't know that things are that great now, but it does signal that consumers were feeling better going into the holidays, which is a key time for retailers."
Helping to lift confidence is the fact that since mid October stocks have rallied, gas prices have fallen and the labor market improved with both better hiring and a decrease in the number of layoffs.
While the survey found that only 6.7% of consumers believe jobs are now plentiful, that's nearly double the 3.6% who felt that way in October. Those who believe the job picture will be better six months from now rose to 13.3% from 10.8%.
Most importantly for consumer spending, those who expect their own income to increase in the next six months rose to 17.1%, outpacing the 14.4% who expect their income to fall. This is the first time since April that the percentage of people who expect their income to improve topped those who expect it to drop.