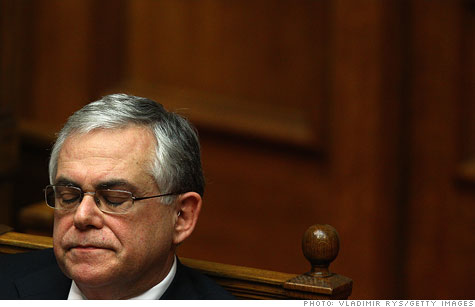 Greek Prime Minister Lucas Papademos was appointed last year to help steer the debt burdened nation back from the brink.
NEW YORK (CNNMoney) -- The top lobbyists representing Greek bondholders said Tuesday that progress has been made in negotiations over an agreement to cut the nation's crushing debt load.
It is "essential" that a voluntary agreement between the Greek government and its creditors be reached "in the days ahead," said top officials from the Institute of International Finance
Under the terms of the deal, which were outlined after a meeting of European Union leaders on Oct. 26-27, private sector investors would voluntarily accept a 50% reduction on the face value of Greek government bonds.
The 50% writedown, or "haircut," translates into €100 billion and will reduce the nation's debt load to 120% of economic output by 2020.
The IIF statement was issued following a report that a Greek government spokesman said the nation would be forced to leave the euro currency union if it cannot secure a second €130 billion bailout package.
Greece, the nation at the center of the eurozone debt crisis, has been kept afloat with billions of euros in emergency loans from its European partners. But the nation has struggled to push through austerity reforms as its economy sinks deeper into recession.
EU officials have been in talks with the banks and investors that hold Greek government bonds since July over the role private sector investors will play in the effort to rescue Greece.