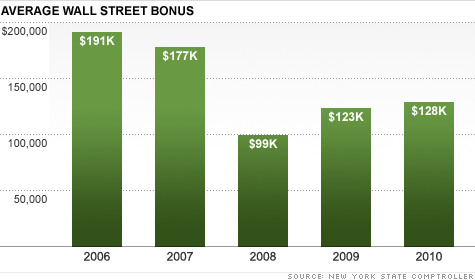 The average Wall Street bonus is expected to shrink to its lowest level since 2002.
NEW YORK (CNNMoney) -- Most people on Wall Street will be getting smaller bonus checks for 2011 -- except for the elite bankers.
In a year when bonuses are expected to drop between 30% and 40% for the vast majority of those working on Wall Street, the star performers, or roughly the top 10%, will see bonuses at or slightly below last year's levels.
"Very rigorous tiering of pay has happened in the past, but it's starting to look like it will be more acute going forward," said John Rogan, head of global banking and markets at the recruiting firm Russell Reynolds.
Tiering essentially means a widening gap in a key source of compensation - bonuses. They're typically handed out in mid-February but most firms on Wall Street spent last week and this week divvying up bonus pools from shrinking sources of revenues.
The bottom tier may only get "small token bonuses" or even nothing, said Paul Sorbera, president of executive search firm Alliance Consulting.
For the lower performers, banks must weigh whether to commit to layoffs or cut out bonuses, especially when they might actually scale back up if business improves, he explained.
"Everybody's revenues are under pressure, and everyone is reducing compensation," said Oppenheimer & Co. analyst Chris Kotowski.
By Oppenheimer's estimates, revenues at Bank of America (BAC, Fortune 500) are expected to be down roughly 16% in 2011 from 2010 when they report next week. And Citigroup's (C, Fortune 500) revenues are expected to be down by 8%, according to Oppenheimer.
Still, banks tend to pay a higher proportion of their revenue as compensation during tough times. For example Citigroup paid out roughly 31.1% of its roughly $80.3 billion in annual revenues to its employees in 2009 and 28.1% of its $85.6 billion in 2010. Kotowski estimates that this will jump back to 32.2% for 2011.
Many recruiting professionals and executive compensation consultants bet that the average bonus could fall by as much as 40%. That would put the average bonus at about $74,400, which would be the lowest since 2002, based on comparisons with the New York State Comptroller's study of annual Wall Street bonuses.
Even with a 40% drop, the average Wall Street bonus (not total compensation) remains roughly 50% above the U.S. median household income in 2010 of roughly $40,069 per person.
And Wall Street isn't ignoring the fact that they need to keep their stars to keep generating revenues.
"Bank still need to worry whether talent will migrate," said Dan Ryan, a financial services partners in the recruiting firm Heidrick & Struggles. "A very small population of stars could see the same bonuses from last year, because banks know that if they pay down significantly they risk their senior relationship managers going somewhere else."
Recruiting experts said that while employment overall on Wall Street will continue to shrink, banks will take this opportunity to seek out frustrated workers to tap new talent.
Most checks are handed over in mid February and in turn early spring is key time for job transitions on Wall Street. "Most banks have a wish list of where they want to upgrade," said Ryan.
Investment banks are on the hunt to bulk up M&A talent in the energy sector as there's an anticipation of lots of potential 2012 deals in that sector, said Ryan. Financial services bankers will also be in demand, he said.
"People will be defensive and will hold onto their people, but they can't show shareholders a loss because of bonuses," said Kotowski.
Ah, the slippery compensation slope.