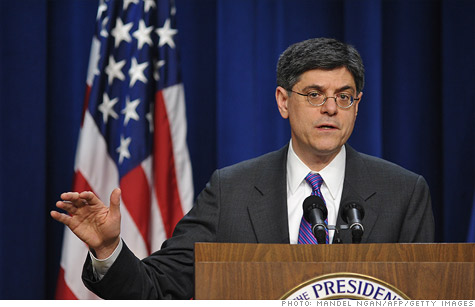 Budget chief Jack Lew's promotion to chief of staff leaves the president with tough choices when it comes to getting a new budget director confirmed.
WASHINGTON (CNNMoney) -- With budget chief Jack Lew stepping up to be President Obama's new chief of staff, Washington is abuzz over who -- if anyone -- will be tapped as the president's new budget director.
The White House's director of the Office of Management and Budget (OMB) has been playing an increasingly high profile role when it comes to sparring with Congress, thanks to ongoing debates over budget deficits and keeping the federal government funded.
For now, the White House appears to be suggesting it's not in a rush to fill the job, saying Lew will continue to oversee the president's release of the 2013 budget.
This year, the president is supposed to submit his budget to Congress by Feb. 6. In the weeks that follow, senior staff will head to Capitol Hill to testify before Congressional panels, explaining the different parts of the proposal.
The White House is suggesting that Lew's senior staff can operate leaderless a while.
"In addition to Jack, there is a very talented team, senior team there at the OMB that will function as effectively as they have under his leadership after he's gone," said White House Press Secretary Jay Carney on Tuesday.
Carney wouldn't speculate who was under consideration for the budget job, although he said he was "sure there's a list." He also declined to say how soon the president might make such an appointment.
"There is a very talented and committed senior team here at OMB," said Kenneth Baer, OMB spokesman. "Whatever decision the President makes about who is to lead the agency, there will be a continuity of leadership at the highest levels."
So far, media reports have surfaced a couple of possible candidates ranging from Obama administration veteran Gene Sperling, who is currently working as the director of the National Economic Council, to Lew's deputy at OMB, Heather Higginbottom.
Whoever gets nominated is going to have to get through Senate Republicans, who are still smarting from Obama's recess appointment last week of Richard Cordray to run the Consumer Financial Protection Bureau. The move sidestepped Republicans in Congress, who blocked that confirmation for months.
And Senate Republicans have problems with Obama's budget team. They butted heads with Lew in debates over deficits. Alabama Republican Jeff Sessions and others had allowed the confirmation of Higginbottom to drag on for 10 months, saying she lacked budget experience.
"This elevation (of Lew) also would appear, for the moment, to leave as his presumptive replacement OMB Deputy Director Heather Higginbottom -- a nominee noted for her lack of budget experience," Sessions said in a statement. "The president must make a wise choice to replace Mr. Lew.'"
The next OMB director would be Obama's third. Lew succeeded Peter Orszag, who headed President Obama's budget team until July 2010.