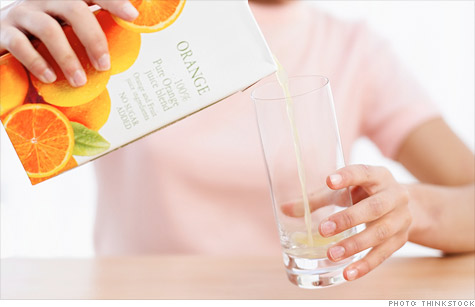 The FDA, which is testing orange juice shipments and products for an unlawful fungicide, says 'consumers can be confident that the orange juice in their refrigerators is safe.'
NEW YORK (CNNMoney) -- Don't toss out that full carton of orange juice sitting in your refrigerator just yet.
The U.S. Food and Drug Administration is testing all orange juice and orange juice concentrate shipments as well as products at domestic manufacturers, but the regulating agency says "consumers can be confident that the orange juice in their refrigerators is safe."
Here's what you need to know.
Why is the FDA testing OJ? Last month, Coca-Cola alerted the FDA that it detected low levels of a fungicide in its own and in competitors' orange juice and in juice concentrates from Brazil following routine tests.
As a precautionary measure, the FDA has halted imports of orange juice and orange juice concentrates from all over the world, and is testing each shipment for the fungicide carbendazim. The FDA said it will deny entry of any imported orange juice products that test at 10 parts per billion or higher for carbendazim, which is still a very low level.
As of Friday, the FDA said it has collected samples from 31 shipments. Twenty-eight are still pending analysis, but three shipments of orange juice and orange juice concentrates were negative for carbendazim, and will be released by the FDA.
What is carbendazim? Carbendazim is a chemical fungicide that is legal in most parts of the world, including Canada, Japan, Europe and Brazil.
The FDA said that industry reports indicated the carbendazim was in orange juice products from the 2011 crop in Brazil, where the fungicide is used to combat a type of mold that grows on orange trees known as black spot.
In the United States, however, the Environmental Protection Agency has not approved the use of carbendazim as a fungicide, and under U.S. law, it's considered an unlawful pesticide chemical residue.
Is carbendazim dangerous? The EPA has conducted a preliminary risk assessment on carbendazim and determined that levels under 80 parts per billion (ppb) in orange juice do not raise safety concerns.
In the original tests, Coca-Cola (KO, Fortune 500) detected between 10 ppb and 35 ppb in orange juice products of its own and those of its competitors. Coca-Cola makes Minute Maid, Simply Orange and Odwalla.
However, the EPA is continuing to conduct risk assessments, and said it will have more results next week.
How much orange juice comes from Brazil? About 75% of all orange juice consumed locally is supplied domestically, and the rest is imported, according to the U.S. Department of Agriculture.
However, of the remaining juice that is imported, Brazil is the largest contributor. In 2010, the South American country shipped over 171 million gallons of orange juice to the United States, accounting for more than 56% of all orange juice imports that year.
But overall, only 11% of all orange juice consumed in the U.S. comes from Brazil, according to the USDA.
U.S. companies import orange juice from Brazil because of unpredictable weather conditions in Florida -- hurricanes and freezing temperatures -- which can negatively impact that state's orange crops.
Is is possible that the orange juice in my fridge has carbendazim? Yes. But because the levels of carbendazim that have been detected are not harmful, the FDA said it has "determined that requiring a recall or the destruction of orange juice products" is not necessary.
In fact, the competitor products that Coca-Cola tested were "currently marketed finished products," meaning they were purchased off grocery store shelves.
Following Coca-Cola's disclosure, PepsiCo (PEP, Fortune 500)-owned Tropicana said it also found fungicide in the imported Brazilian juice used in its orange juice thanks to additional testing after the FDA's announcement. The company said the levels do not raise safety concerns.
Tropicana had already made an "unrelated decision" in November to transition to 100% Florida orange juice for its Pure Premium juices, which do not include orange juice concentrate.
Tropicana said it is already the largest buyer of Florida oranges, so that transition only requires a "minor supply chain adjustment" that will be completed by the end of the month.
Meanwhile, PepsiCo's Naked Juice products are made only from oranges grown in the United States, the company said.
Similarly, Florida's Natural, which competes with Coca-Cola and PepsiCo's orange juice products, prides itself on only using oranges that are grown by U.S. farmers in Florida.
Trader Joe's said that although its orange juices are only made with oranges sourced from Florida, California and Mexico, its orange juice suppliers are conducting additional testing in light of recent concerns.
The FDA has confirmed that it is also testing samples of finished orange juice products and orange juice concentrates at domestic manufacturers, and said the sampling and analysis will be completed in the next few weeks. The agency said if it identifies a brand of orange juice that presents a public health risk due to levels of carbendazim, it will issue a recall.
How will this affect orange juice prices? On Tuesday, March orange juice futures spiked almost 10%, or 20 cents, to $2.07 a pound on the ICE Futures Exchange, which traders said was the highest level since 1977.
Futures reversed course on Wednesday, 9%, to $1.881 per pound. And on Thursday, orange juice futures retreated another 5.6%. On Friday, futures popped 8%.
Traders say huge spikes in orange juice futures could result in price bumps at the grocery store.
Coca-Cola said it could not comment on whether the discoveries would affect pricing of its orange juice products.