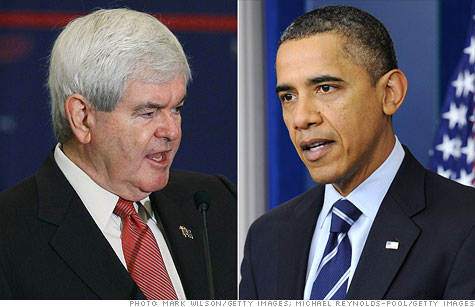 Newt Gingrich is labeling Barack Obama as the "food stamp president."
NEW YORK (CNNMoney) -- A record 44.7 million people -- or 1 in 7 Americans -- were on food stamps last year. But does that make Barack Obama the "food stamp president?"
Newt Gingrich once again slapped that label on Obama during a South Carolina debate Monday night, saying: "The fact is that more people have been put on food stamps by Barack Obama than any president in American history."
It's true that the food stamp rolls have swelled more under Obama's tenure than under his recent predecessors. Also, his 2009 Recovery Act allowed even more people to sign up.
The number of people in the Supplemental Nutrition Assistance Program has soared to an average 44.7 million in fiscal 2011, up 33% from fiscal 2009. Obama's stimulus act made it easier for childless, jobless adults to qualify for the program and increased the monthly benefit by about 15% through 2013.
In fiscal 2011, the federal government spent more than $75 billion on food stamps, which provided an average monthly benefit of $133.85 a month, according to the U.S. Department of Agriculture. That's up from $34.6 billion at the end of fiscal 2008, when recipients collected an average benefit of $102.19.
But these numbers alone do not tell the whole story.
Food stamp enrollment has been rising for more than a decade. President Bush launched a recruitment campaign, which pushed average participation up by 63% during his eight years in office.
Nearly the same number of people -- 11 million -- joined the program during the Bush and Obama administrations, according to Department of Agriculture records. Of course, the jump during Obama's tenure has come in only three years.
Also, food stamps are available to anyone who meets the criteria, generally having a monthly net income below the poverty line -- about $18,500 a year for a family of three -- and assets of $2,000 or less. Even with the ramp-up, an estimated one in four eligible Americans do not participate, according to the left-leaning Center on Budget and Policy Priorities.
Much of what's driving the steep climb in enrollment is the nation's worst economic downturn since the Great Depression, when the food stamp program was created.
Food stamps have become a lifeline for the millions of long-term unemployed. More than 20% of those unemployed for more than six months received benefits, according to Congress' Joint Economic Committee.
"The program is designed to be responsive to economic downturns and it's met the need that's out there," said Dorothy Rosenbaum, the center's senior policy analyst. "These increases are temporary."
However, Gingrich may have a point in painting Obama as an entitlement president, said Robert Rector, senior research fellow at the conservative Heritage Foundation. Spending on income-based programs, such as food stamps, has increased by one-third to $900 billion under Obama. There are 70 such programs.
"He is massively expanding spending on welfare-related programs," Rector said. "Food stamps is a symbol of that growth."