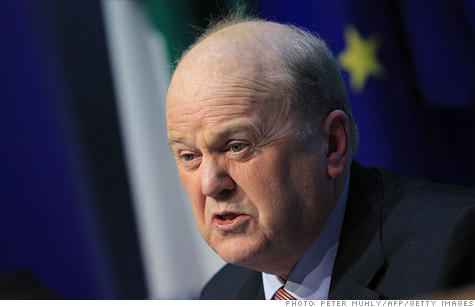 Ireland's Finance Minister Michael Noonan has been trying to help push through tough austerity measures to keep Ireland's economy from sinking.
LONDON (CNN) -- A year after agreeing to a massive bailout, Ireland said Thursday that it has passed the fourth quarterly test set by the International Monetary Fund, the European Union and the European Central Bank.
"This successful outcome illustrates the ability of the Irish State to implement a challenging program effectively," Finance Minister Michael Noonan said in a statement.
The IMF, EU and ECB, better known as the troika, have approved Ireland's austerity measures during each of the four quarterly assessments in 2011, allowing Dublin to receive installments from the €85 billion four-year bailout program agreed in December 2010.
"Challenges remain," said the troika, in a statement, adding that "continued steadfast policy implementation will be key."
The Irish government said it met the troika's deficit target of 10.6% by a wide margin, with the 2011 deficit expected to be less than 10%, thanks in part to the economy returning to growth in the first half of the year, after three years of recession.
The country is unlikely to be growing in the first quarter this year, though, with the government stating that "deteriorating external conditions pose risks in 2012."
Another group of officials from the troika are currently in Athens to assess if Greece has met its fourth-quarter targets for cutting spending and raising taxes in order for Greece to get another loan from its €110bn bailout agreed in May 2010.
Greece has found it much harder to meet the criteria set out by the troika than Ireland has.