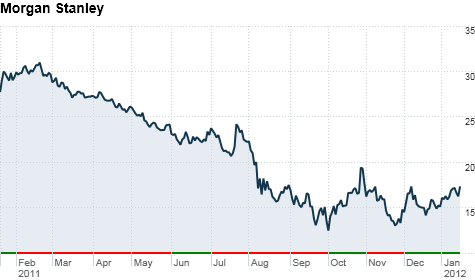 Click chart for more on Morgan Stanley stock.
NEW YORK (CNNMoney) -- Morgan Stanley reported a smaller-than-expected loss Thursday, driven by a previously announced settlement and other one-time items. But the loss was offset by gains in the bank's equity-sales and trading business.
The bank suffered a net loss of $227 million, or 14 cents a share, for the final three months of 2011. That compares with earnings of $867 million, or 43 cents a share, in the same period a year ago.
The results included a loss of $1.7 billion, or 59 cents a share, related to a settlement Morgan Stanley reached with bond insurer MBIA in December. The settlement resolved legal issues around credit default swaps the bank purchased on mortgage backed securities.
Analysts had forecast a loss of 57 cents per share in the quarter, according to a survey by Thomson Reuters.
Morgan Stanley's stock rose 5% as investors focused on the relatively strong performance of its equities-trading business. The division reported revenues of $1.3 billion, up 18% from $1.1 billion a year ago.
Glenn Schorr, an analyst at Nomura Securities, noted that Morgan Stanley's equity trading performance has been much better than its rivals, which have seen an average drop of 20%.
But earnings from the firm's overall financial markets operations fell sharply as investors remained sidelined by the debt crisis in Europe.
Europe remains the "primary overhang" for global financial markets, said Ruth Porat, chief financial officer at Morgan Stanley, in a conference call following the earnings release. But the firm is cautiously optimistic about improving economic and market conditions in the United States, she added.
Morgan Stanley's asset management business earned $78 million in the quarter, down 79% from $353 million in the year-earlier period.
Net income from the firm's global wealth management division fell 37% to $244 million in the quarter.
Morgan Stanley also updated its exposure to the eurozone debt crisis, saying it settled a large derivatives position linked to Italian debt in January.
"We're very comfortable with our exposure," to Europe, said Porat.
Overall, fourth-quarter revenue was down 26% to $5.7 billion. Analysts were expecting revenue of $5.5 billion.
For the full year, Morgan Stanley earned $4.2 billion, or $1.26 per share, on net revenue of $32.4 billion.
Analysts were looking for full-year earnings of 82 cents per share on $32.5 billion in revenue.
The full-year results included "positive revenue" of $3.7 billion, or $1.34 per share, related to adjustments the bank made to reflect widening credit spreads.
Morgan Stanley (MS, Fortune 500) said its results also reflected the conversion of shares held by Mitsubishi UFJ Financial Group (MTU), which cut full-year earnings by $1.7 billion.
The firm reported a modest increase in compensation and benefits, up 3% from the prior year to $16.4 billion. That translates to an average annual salary of $265,210 for Morgan Stanley employees, compared with $256,595 in 2010.
Shares of Morgan Stanley have regained ground over the last few weeks, after falling to levels not seen since 2008 in the third quarter on concerns about the bank's exposure to the debt crisis in Europe.
Morgan Stanley is up 15% so far in 2012 amid a broad rebound in bank stocks.
Seperately, Bank of America (BAC, Fortune 500) reported a fourth-quarter net income of $2 billion, reversing a year-earlier loss, and revenue that topped expectations.
On Wednesday, Goldman Sachs (GS, Fortune 500) reported a larger than expected fourth-quarter profit of nearly $1 billion, compared to a loss of $428 million in the third quarter.
Goldman's report follows disappointing results from rivals Citigroup (C, Fortune 500) and JPMorgan (JPM, Fortune 500). But Wells Fargo (WFC, Fortune 500) posted earnings that pleased investors.