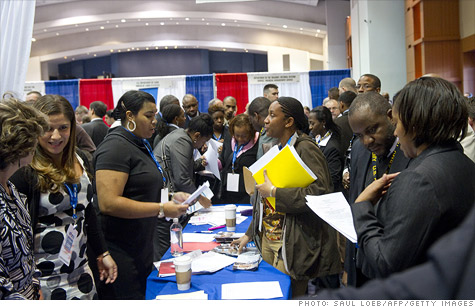 The number of people filing for unemployment benefits fell to 352,000. It's the best jobless claims figure since April 2008.
NEW YORK (CNNMoney) -- Initial jobless claims fell to their lowest level in nearly four years, another sign of improvement in the long-suffering labor market.
The Labor Department reported that 352,000 people filed for initial unemployment benefits last week, down sharply from a revised reading of 402,000 claims in the previous week. It is also the fewest number of people filing for jobless claims since the week ending April 19, 2008.
Weekly initial jobless claims below 400,000 are typically taken as a sign of an improving labor market. So the sharp drop last week is an encouraging sign, helping to lower the less volatile four-week average to 379,000 claims.
"Claims rarely go below 300,000, so when you're around 350,000 you're close to the job market being back to normal," said Robert Brusca of FAO Economics. "I'm not ready to say we're fixed after one good week, but I'm pretty impressed with it."
Those continuing to receive unemployment benefits also improved to 3.4 million, down 215,000 from the previous week. That's the biggest one-week drop in that measure since July 2009.
"Today's data coupled with the positive December payroll report appear to confirm that the labor market may be gaining more traction than previously anticipated," said Joseph LaVorgna, chief U.S. economist with Deutsche Bank, in a note to clients Thursday
The December jobs report showed employers added 200,000 jobs while the unemployment rate fell to 8.5%, the lowest level since February of 2009.