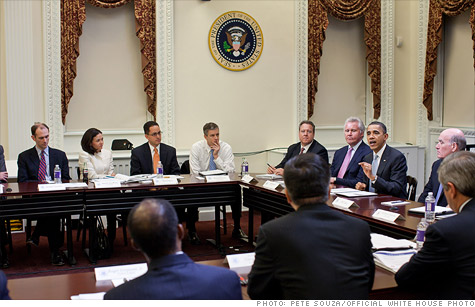 Obama's job council releases its wish list of proposals that they say will spur jobs.
WASHINGTON (CNNMoney) -- President Obama's jobs council on Tuesday released its latest round of recommendations detailing how the United States can be more competitive.
This time, the recommendations aren't all that new and appear unlikely to get much traction. Versions of all most of the council's recommendations have also been offered before by the Obama administration in an effort to spur job growth.
They also offered one that the White House hasn't pushed for: More drilling for oil and natural gas.
"We've tried to take seriously everything you've proposed," Obama said as the meeting began. "Education, innovation, streamlining regulation, energy, manufacturing -- they're all critical issues and they're all interwoven. A lot of these issues are difficult and have proven challenging for decades."
The recommendations include investing in education and research and development, supporting the manufacturing sector, and reforming the tax and regulatory systems.
"Our competitiveness has eroded over the past decades," wrote Jeffrey Immelt, the chairman of the jobs council and CEO of General Electric Co (GE, Fortune 500)., in the report. "Other countries are getting better. Our regulations are more complex. Investment has been slow to return since the financial crisis."
Republicans noted the overlap between the job council's wish list and Republicans' push for a stronger focus on lower taxes, less regulation and more domestic energy production.
"With this report, President Obama's own panel of experts has endorsed the approach to job creation House Republicans have been pursuing for more than a year," House Speaker John Boehner said in a statement. "American job creators understand that we must ease the regulatory burden on small businesses, foster private-sector innovation, transition to a more competitive tax system, and utilize the vast energy resources we have here at home."
The Council on Jobs and Competitiveness is a group of business leaders Obama tapped to come up with job-spurring ideas. The council will discuss the report with the president at a White House meeting later Tuesday.
While Immelt said the council has made "considerable progress," many of the recommendations released Tuesday -- especially those that require money, such as investing in education or research and development -- require Congress to pass legislation.
And political gridlock has prevented Congress from doing much in the way of helping the staggering U.S. economy over the past few years.
The jobs council says that Congress and the White House should work together to bolster the teaching profession and develop more partnerships between businesses and higher education.
The council also wants tax breaks for private industry engaged in research and development. It also says that while corporate taxes should be lowered, they should also be broadened in a way that impacts more companies -- especially those that now rely on loopholes to avoid paying corporate taxes.
The jobs council also called upon the White House to consider "expanding and expediting the domestic production of fossil fuels -- including allowing more access to oil, gas, and coal opportunities on federal lands."
Obama said he's focused on making sure that such energy extraction is done "safely in a way that protects public health."
"We don't have to incentivize the industry to extract it, but we do have to make sure it's done safely," Obama said. He went on to talk about the importance of subsidizing clean energy technology.
The jobs council replaced the president's economic advisory team, which had been led by former Fed chair Paul Volcker.
The council includes executives such as AOL (AOL) co-founder Steve Case and Intel (INTC, Fortune 500) CEO Paul Otellini. It also includes AFL-CIO president Richard Trumka and Facebook Chief Operating Officer Sheryl Sandberg.