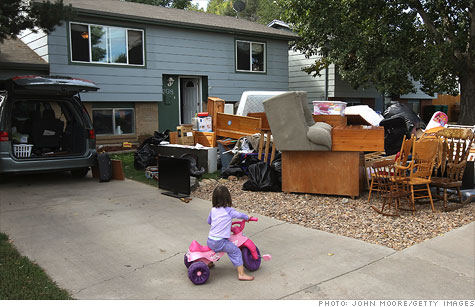 A deal to help homeowners is in the works, after allegations of improper foreclosures.
WASHINGTON (CNNMoney) -- As regulators and attorneys general continue a year-long push to deliver help for homeowners, some left-leaning groups on Monday warned against any deal that protects banks against lawsuits.
Negotiations for a settlement over improper foreclosures have been dragging on for months between state and federal authorities and some of the nation's biggest banks.
At stake could be a $20 billion to $25 billion pot of money from the banks and mortgage servicers that could help troubled homeowners modify loans and provide them with counseling, according to two people familiar with the talks.
Under the latest deal, about 1 million U.S. homeowners who are underwater on their mortgages could be eligible for as much as $20,000 in relief of principal owed, U.S. Housing and Urban Development Secretary Shaun Donovan has said. In return, mortgage servicers in states that agree to the deal would get immunity from lawsuits, the sources said.
Several Democratic state attorneys general were briefed of more details of the deal on Monday in a meeting in Chicago, CNNMoney confirmed. Republican state attorneys general were also to be briefed on a conference call.
News of the briefings spurred a protest on Monday outside the State of Illinois Building in Chicago by members of left-leaning groups, including Move On and the New Bottom Line, urging states to hold out for a bigger criminal investigation and a $300 billion settlement award.
Left-leaning activists and two Democratic lawmakers said they're fighting against blanket immunity for banks, which North Carolina Democrat Rep. Brad Miller called a "very bad deal for the American people and a sweet-heart deal for banks," in a conference call with reporters on Monday.
The negotiations are between federal agencies, including the U.S. Department of Justice and the U.S. Department of Housing and Urban Development, as well as state attorneys general and the five largest mortgage servicers:Bank of America (BAC, Fortune 500), Wells Fargo (WFC, Fortune 500), JPMorgan Chase (JPM, Fortune 500), Citigroup (C, Fortune 500) and Ally Financial (GJM).
The Obama Administration had been pushing for a resolution in time for the president to tout the deal during his delivery of the State of the Union on Tuesday.
But no final agreement is expected this week, said Geoff Greenwood, spokesman for the Iowa Attorney General Tom Miller, who has been leading the talks.
The final monetary award depends on the participation of larger states. But several states, including New York, Delaware and California, are reportedly cool to the latest draft, a source said. Those attorneys general have said they want the freedom to pursue their own housing investigations.
Calls to those attorneys general were not returned on Monday.
Washington analysts say they expect some tidbits from the latest proposed settlement to make Obama's State of the Union speech.
"The President is likely to tout how the agreement will provide for principal reduction and help for more than a million borrowers," said Jaret Seiberg, senior policy analyst with Washington Research Group in a Monday research report.
"He will emphasize how this is about helping today to correct the mistakes of yesterday," Seiberg said in the report.