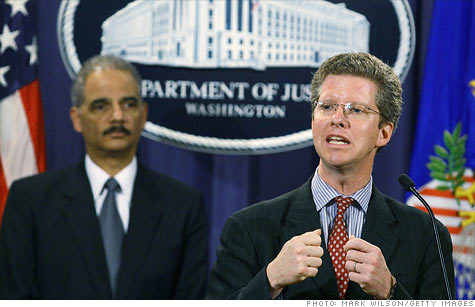 U.S. Attorney General Eric Holder and Housing and Urban Development Secretary Shaun Donovan explain a new mortgage meltdown working group to target wrong doing in the securities markets.
WASHINGTON (CNNMoney.com) -- President Obama's latest probe into the mortgage meltdown will have more power than past efforts, and federal officials say it won't derail a possible $20 billion settlement for underwater and foreclosed homeowners.
U.S. Attorney General Eric Holder and Department of Housing and Urban Development Secretary Shaun Donovan took great pains Friday to explain how their working group into the mortgage meltdown will be better than past joint-agency federal probes.
However, one former watchdog says he thinks the new working group is "window dressing."
"This certainly looks like political rebranding of the existing efforts," said Neil Barofsky, a former special inspector general of the federal bailout of big banks.
The new working group is a coalition of many of the same agencies and even the same state attorneys general that have been working together since the Obama administration announced the creation of its first mortgage fraud task force in 2009.
Holder said this new watchdog group will have more than 50 investigators and attorneys assigned to it. And he announced that subpoenas are being sent to 11 financial firms for records related to the buying and selling of mortgages.
By sharing documents and jurisdictions with New York State Attorney General Eric Schneiderman, officials can take advantage of New York state laws that are tougher on Wall Street financial fraud than the federal government's laws, Holder said.
"This working group can set a template for not just accountability but for real relief for homeowners," Holder said.
However, Barofsky said that if the Justice Department is really serious about going after securities fraud, it should tap the U.S. Attorney for the Southern District of New York, an office with the most experience on security fraud cases. Barofsky notes the New York office was not mentioned in the list of officials leading the working group.
"You're putting someone in charge of it who doesn't have experience with securities fraud," said Barofsky, a critic of Obama administration programs aimed at helping underwater homeowners. "Why don't you have your most skilled A-team contributing to this?"
Holder and Donovan also said that their so-called "Residential Mortgage-Backed Securities Working Group" will focus on the creation of mortgages to homeowners who couldn't afford them, as well as the buying and selling of those mortgages to spread the risk.
They added that this working group will steer clear of mortgage-servicing problems -- the focus of ongoing negotiations between the biggest banks, regulators and states attorneys general.
"If you think about the actions that really led to the devastating effects on homeowners, it really was the origination and the securitization of these products," Donovan said.
Iowa Attorney General Tom Miller, who has been leading the settlement talks over mortgage servicing, agrees the two efforts can co-exist. The mortgage meltdown contains "many pieces of a puzzle," and the new joint working group will allow officials to "address those other pieces," said Geoff Greenwood, spokesman for the Iowa attorney general.
However, one big bank chief said he's worried the new probe and the settlement will collide. Bank of America (BAC, Fortune 500), Wells Fargo (WFC, Fortune 500), JPMorgan Chase (JPM, Fortune 500), Citigroup (C, Fortune 500) and Ally Financial (GJM) have been in talks with the state attorneys general, the Justice Department, and the Department of Housing and Urban Development for nearly a year
JP Morgan Chase CEO Jamie Dimon, in an interview with CNBC on Thursday, was the first to say he thinks the new working group could threaten a settlement.
But Citigroup CEO Vikram Pandit told CNNMoney's Poppy Harlow that the federal government has the right to create such a working group to pursue wrong-doing in the mortgage market.
"If people have done something wrong, they ought to be held accountable for it, there's no question about that," Pandit said. "That's how the business world should work."
The settlement could be significant if it makes good on promises to deliver between $20 and $25 billion, which could help ease an average of $20,000 in principal owed on mortgages for some underwater homeowners -- if states agree to give immunity to the big banks from new mortgage servicing legal claims.
However, three sources familiar with the talks say the latest proposed deal is in trouble, in part because California State Attorney General Kamala Harris said this week she isn't interested in the latest deal being discussed. Harris says it's not good enough for California, according Shum Preston, spokesman for the California Justice Department.
New York's Schneiderman is also reportedly cold to the latest deal, two sources familiar with the talks have said. At the Friday press conference, Schneiderman would not say whether his work with the new task force would guarantee that New York will participate in the settlement.
The big banks aren't as keen to sign off on a multi-state deal that doesn't include immunity from mortgage servicing lawsuits from California and New York, said a source familiar with the deals.
--CNNMoney's Poppy Harlow and CNN's Terry Frieden contributed to this story.