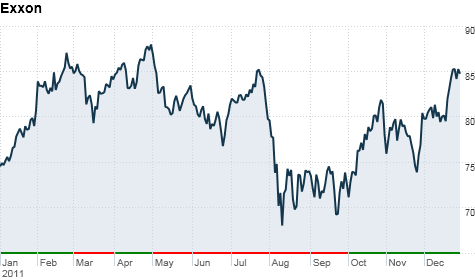 Click chart for more on XOM.
NEW YORK (CNNMoney) -- Exxon reported a 2% rise in fourth-quarter earnings Tuesday as higher oil prices offset declining production volumes.
The largest U.S. oil company also defended its focus on natural gas, which is part of its plan to develop unconventional energy sources in the United States.
Prices for natural gas have remained in a deep slump, falling more than 25% in the fourth quarter.
David Rosenthal, the company's vice president of investor relations, blamed mild winter weather and weak economic growth in Europe for cutting into demand.
But Exxon is optimistic about the future prospects for the fuel that's used to heat buildings and generate electricity.
"We remain bullish on the future of natural gas as an energy source," Rosenthal told analysts in a conference call. "Given the steep decline in conventional gas, unconventional gas will pay dominant roll going forward."
Natural gas prices fell 8% Tuesday, while oil prices edged higher.
Before the market opened Tuesday, Exxon reported net income of $9.4 billion, or $1.97 a share, in the fourth quarter. That's up from $9.25 billion, or $1.86 a share, in the same period in 2010.
Analysts were expecting earnings of $1.96 a share, according to a survey by Thomson Reuters.
Revenue rose 15% to $121.6 billion, the company said.
For the full year, Exxon earned $8.43 per share, in 2011. Analysts were expecting annual profits of $8.42 per share.
Shares of Exxon (XOM, Fortune 500) were down 2% in midday trading.
The results reflected higher oil prices, which jumped 25% in the quarter. But the industry has struggled to increase production as global oil supplies become more scarce.
Oil-equivalent production fell 9% in the fourth quarter, though it was up 1% for the full year.
Rosenthal said overall production was impacted by entitlement volumes, which reflect payments made to governments and other partners, and other quotas.
The company said earnings from oil exploration and production rose 18% to $8.8 billion in the quarter. But lower volumes and a negative impact from Exxon's production mix reduced earnings by $1.4 billion.
Exxon said earnings from its oil and gas refining operations declined during the quarter, citing tighter profit margins. Earnings from the company's chemicals business also declined.
Rival oil company Chevron (CVX, Fortune 500) reported a 3% decline in quarterly profits last week, as its oil and gas production fell to the lowest levels in years. ConocoPhilips (COP, Fortune 500) also reported declining production volumes, even as profits rose in the quarter.
On Saturday, Exxon announced plans to sell its stake in a Japanese refining business to TonenGeneral Sekiyu for $3.9 billion.