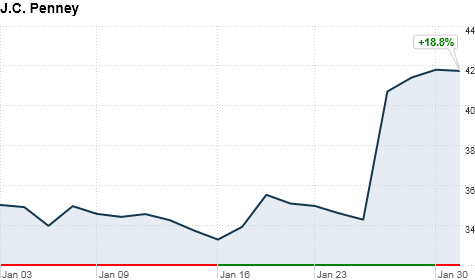 Click the chart to track J.C. Penney's stock
NEW YORK (CNNMoney) -- J.C. Penney's ambitious plan to turn around its business and make its brand hip and cool is in high gear, but whether the 110-year-old company's stock will keep up the pace is another question.
On Wednesday, the company launched its "Fair and Square" pricing plan --the one featured in those maddening commercials with shoppers screaming "Noooooooooooo!" in frustration at complicated sale signs and coupons.
Rather than luring in customers with frequent sales that offer them deep discounts, J.C. Penney (JCP, Fortune 500) will introduce an "everyday price" that is essentially a permanent discount of at least 40% on all items.
Here's an example. A women's T-shirt regularly priced at $14 in 2011 will now have an "everyday price" of $7, the retailer said.
It's the first big move made by new CEO Ron Johnson, the man responsible for Apple's (AAPL, Fortune 500) retail stores and Genius Bar. Johnson, who also was Target's (TGT, Fortune 500) former marketing whiz, joined J.C. Penney late last year.
J.C. Penney is coming off a tough year. In November, the company posted a third-quarter loss of $143 million and gave a weak fourth-quarter outlook.
But Johnson's plan, which is the essence of J.C. Penney's grand transformation and was unveiled at an investor meeting last week, didn't initially impress the market either. Shares actually fell 1% last Wednesday, the day Johnson announced the new pricing structure.
A day later, shares spiked 18% after the Plano, Texas-based department store chain revealed that it may save $900 million in the next two years thanks to its new strategy. The company also provided a better-than-expected profit outlook for fiscal 2013, which begins this month.
Shares have held on to the gains so far, but analysts aren't sure how much longer the euphoria will last.
While the overhaul plans have helped analysts better understand Johnson's 'magic' touch, there are questions about how quickly the new strategy can lead to higher sales.
"We continue to believe sales trends will deteriorate further before improving as it will take time for consumers to adapt to J.C. Penney's new pricing strategy," wrote Michelle Clark, analyst at Morgan Stanley, in a research note.
So far, the advertisements and pricing plan have been met with mixed reactions, according to comments left on J.C. Penney's official social media pages.
"Hate the commercial! Annoying! No more sales and coupons means no more J.C. Penney shopping for me!" said 1katiebella on J.C. Penney's YouTube page.
But Karen Adkison of San Ramon, Calif., wrote that she appreciates Johnson's "outstanding price innovation" and has decided that J.C. Penney is in fact her favorite store in a post on J.C. Penney's Facebook page.
While J.C. Penney's new plan aims to provide a simpler, less confusing pricing structure, it will still continue to host some sales. But the retailer hopes that they will be more predictable and convenient than in the past.
As part of its effort to become "America's favorite store," J.C. Penney said it will have month-long sales on items that customers are looking to buy during that month--like swimsuits in June.
And items that don't sell well will be marked down to the lowest prices on the first and third Fridays of each month, when most Americans get their paychecks, the company said.
It's a bold bet. If it succeeds, Clark thinks that the stock could soar more than 40% from its current levels to about $60. But if the changes fail to resonate with customers, leaving profit margins flat and the company short of its savings target, Clark thinks shares could tumble more than 50% to about $20.
As a result of the recent jump in J.C. Penney's stock, shares are now trading at more than 23 times fiscal 2013 earnings estimates. That's more than double the valuation of rivals Kohl's (KSS, Fortune 500) and Macy's (M, Fortune 500).
That's too much risk for one analyst. Deutsche Bank analyst Charles Grom said that while J.C. Penney's forecast is impressive, the bar is now set very high. He targets the stock at $40 per share, a tad lower than where it is currently, and recommends that investors remain "on the sidelines for now."