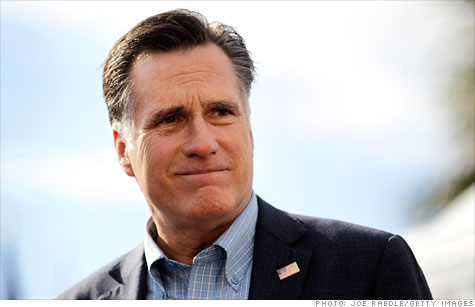 Mitt Romney would be one of the richest presidents in history.
NEW YORK (CNNMoney) -- If Mitt Romney is elected president, he will have to make some tough choices about what to do with his personal fortune.
In order to avoid conflicts of interest and satisfy ethics watchdogs, soon-to-be presidents often sell assets or relinquish control of their investments to a trustee.
Romney, who has spent the better part of a month answering questions about his massive investment portfolio, would be one of the wealthiest presidents in history.
The former Massachusetts governor has a few options.
He could put his investments in a government-approved blind trust, convert some or all of his assets to cash, or possibly take advantage of an obscure tax break for executive branch officials.
Blind trust: Romney is no stranger to the concept of blind trusts.
After becoming governor of Massachusetts, Romney created a trust managed by Boston lawyer Bradford Malt. That's where most of his assets, estimated to be between $85 and $264 million, are today.
But between federally required disclosure forms and the tax returns released by his campaign, the contents of Romney's trust are easily accessible and have been widely scrutinized by the media.
It's now far from blind.
As president, Romney would likely have to dissolve his current trust and create a new one. And this one, approved by the Office of Government Ethics, would require a truly independent trustee.
"Federal ethics guidelines for blind trusts are extremely strict," said Robert Kelner, a partner at Covington & Burling who has advised candidates and appointees on ethics. "Typically they are much stricter than what you find at the state level."
If Romney establishes a new trust, his communication with the trustee would be extremely limited, and he would not be informed of changes to his portfolio.
"He might learn the overall performance of his portfolio," Kelner said. "But he would not know anything about its particular holdings."
It's a popular tactic.
Bill Clinton, both Bushes and Ronald Reagan put their money into a blind trust.
President George W. Bush told CNN at the end of his second term that he had "no earthly idea" what had become of his assets.
"I met the trustees eight years ago and I haven't talked to them since," Bush said.
Unlike his immediate predecessors, Barack Obama does not have a government-approved blind trust.
Most of his assets are invested in U.S. Treasury bonds and bills, mutual funds and education savings plans for his children -- hardly the kind of assets that present conflicts of interest.
Establishing blind trusts is not just popular with presidents. Other wealthy executive branch appointees have followed suit -- sometimes with a little unease. Hank Paulson, who left the top job at Goldman Sachs to become Treasury Secretary, was one of them.
"Have you heard the joke, how do you make a small fortune?" Paulson quipped in 2009. "Give a large fortune to someone in a blind trust."
For Romney, who made his money by making savvy investments, relinquishing control might be particularly difficult.
"You're turning your assets over to someone who is essentially a stranger," said Kenneth Gross, a partner at Skadden Arps Slate Meagher & Flom. "I think some people would not be entirely happy with that situation."
The Romney campaign would not elaborate on the candidate's plans for his wealth, but said in a statement that his "assets will be arranged in a manner that comports with all rules" should he become president.
Move to cash: Perhaps the simplest option would be for Romney to liquidate his holdings.
The Clintons converted their assets to cash in June 2007 as Hillary's campaign for president entered its final stretch, according to the New York Times.
The family's holdings had been in a blind trust, but -- like Romney -- those assets were disclosed in campaign filings required by the Federal Election Commission.
Instead of creating a new blind trust, the Clintons chose to liquidate.
There is a substantial downside to taking this route. The Clinton's likely owed huge sums of money in capital gains.
A fire sale of Romney's assets would likely create a similar tax burden.
It's also possible Romney could choose to divest -- or sell -- a targeted group of assets that are likely to cause conflicts.
But that would be difficult considering the breadth of decisions the president makes, and the vast diversification of Romney's holdings.
"Practically everything the president does could affect individual companies," Kelner said. "Romney might find that difficult to do."
A tax benefit? Members of the executive branch who have to sell specific assets to avoid conflicts of interest are sometimes granted what is called a "certificate of divestiture" by the Office of Government Ethics.
Obtaining the certificate allows appointees to divest while deferring the payment of capital gains, provided they invest the proceeds in an approved asset like a diversified mutual fund or government bond.
The provision is designed to incentivize wealthy individuals to accept posts in the executive branch without forcing them to take a tax hit.
A president has never applied for the tax break, but law experts consulted by CNNMoney said it is conceivable the Office of Government Ethics would grant one to a president with a portfolio like Romney's.
"It would be unprecedented," Gross said. "But I don't know why a president wouldn't be entitled to the same deferral of tax if he felt there was a conflict."
The tax benefit for Romney would be huge.
"Oh my god," said Robert Willens, a tax expert and professor at Columbia Business School. "He'd be right in the sweet spot. This would save him millions or tens of millions."