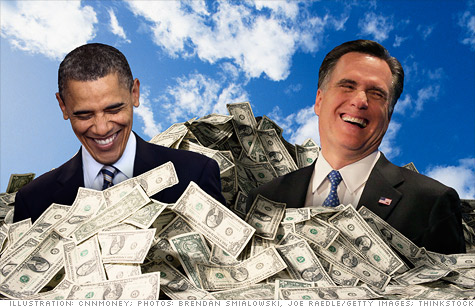 President Obama and Mitt Romney have both displayed substantial fundraising prowess during their campaigns.
NEW YORK (CNNMoney) -- Let there be no doubt: The campaign finance floodgates are officially open.
Disclosure forms filed this week with the Federal Election Commission confirmed what has long been expected: Individuals and corporations are using new outside expenditure groups to influence political campaigns in a big way.
And they're not being shy about it.
The filings offered a look at the donors behind pro-Romney super PAC Restore Our Future, which spent much of the last week buying advertisements designed to derail Newt Gingrich's campaign in Florida.
The filing reveals that 22 corporations and 38 individuals made donations of at least $100,000 to the group, which reported cash-on-hand of $23.6 million -- more than the Romney campaign itself.
"It's a huge sum," said John Dunbar, the managing editor for politics at the Center for Public Integrity. "The amounts are breathtaking. It would take you forever to raise that money $2,500 at a time."
The donor list is littered with Wall Street and Washington power players. Three hedge fund titans -- Robert Mercer, Julian Robertson and Paul Singer -- gave $1 million each.
Bob Perry, a major backer of Swift Boat Veterans for Truth, gave $500,000.
And that's just one super PAC.
The very existence of super PACs is new this cycle, a result of the Supreme Court's 2010 Citizens United ruling, which placed individuals and corporations on equal "free speech" footing when it comes to independent campaign spending.
Armed with the ability to accept unlimited sums of money from corporations, unions, associations and individuals, super PACs are now spending big bucks to overtly advocate for or against political candidates.
"One hundred thousands dollars is nothing now -- $1 million is the new $100,000," Dunbar said.
The filings also underscore how one wealthy donor can exert influence over the political process -- while keeping their name off disclosure forms for a limited time. (Where the money is: A campaign spending primer)
For example, sources have confirmed to CNN that casino billionaire Sheldon Adelson and his wife Miriam have given a total of $10 million to a super PAC that supports Gingrich.
Dunbar said those funds are "single-handedly keeping Newt alive." But since both donations occurred in January, they were not listed on the group's year-end disclosure forms.
The new rules are undoubtedly changing the world of campaign finance, but political parties and actors are responding in different ways.
The FEC documents reveal that Democrats are placing far less emphasis on fundraising through super PACs, or at least they haven't been as successful as their rivals.
Instead, Democrats have put an early focus on building momentum for the giant, online fundraising machine that brought the Obama campaign so much success in 2008.
President Obama raised $68 million from 583,000 donors in the fourth quarter of 2011, according to a campaign official.
Obama is also relying on approximately four hundred big "bundlers" who gather and package donations for the campaign.
For example, longtime Democrat and Dreamworks (DWA) co-founder Jeffrey Katzenberg raised half a million dollars, as did Vogue editor Anna Wintour. Hedge fund and Wall Street types are also well represented.
It's still a successful strategy, as the Obama campaign has been able to raise and hold onto more cash than any of the Republican contenders.
But their fundraising advantage may be slipping, as Democratic super PACs have fallen far behind their cross-party rivals.
Dunbar said Democrats are "going to get smoked" on the super PAC side, a claim that is backed by the numbers. Priorities USA Action, a super PAC founded by two ex-White House aides, reported only $1.5 million cash on hand.
A larger coalition of Democratic groups, including Priorities USA, reported raising a total of $19 million.
"The Republican groups are going to raise tons of money through super PACs and non-profits," Dunbar said. "And Democrats are going to raise extraordinary sums through the traditional channels."
Many analysts believe fundraising for Democratic super PACs will pick up once Republicans coalesce around a nominee -- something that should enliven the Democratic base.
"Democrats aren't engaged right now," Dunbar said. "It's theater for them. Once we get closer back to an actual election we'll certainly see a lot more movement."
Of course, while some super PACs listed donors and fundraising totals on Tuesday, other groups -- like Crossroads GPS, a 501(c)(4) advised by Karl Rove and Haley Barbour -- are not required to disclose their donors.
Crossroads GPS said it raised a total of $32.6 million in 2011.
"Those guys are jamming," Dunbar said. "They're not taking a break. You can only give $30,800 to a political party. I can give $50 million to Crossroads GPS."
Even with total fundraising outpacing the previous cycle by a healthy margin, some Democrats -- including top campaign officials -- have tried to play down the idea that the Obama campaign might be able to raise $1 billion.
"That's kind of comical," Dunbar said. "Who cares what they think? Of course a billion is possible. It might even be probable."