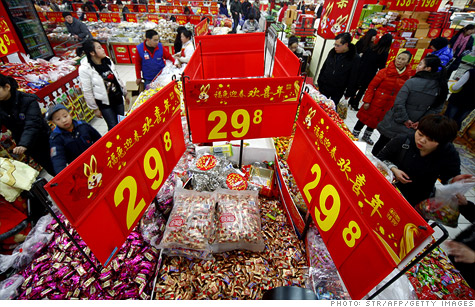 China's government said consumer prices rose 4.5% over a year-ago in January.
NEW YORK (CNNMoney) -- China's inflation rate rose in January, which may dash hopes that the country's central bank will soon take more action to support economic growth there.
Consumer prices rose 4.5% over a year ago, China's National Bureau of Statistics reported Thursday, marking a pick-up from a 4.1% inflation rate the month before.
The uptick in inflation is likely a temporary blip related to the Lunar New Year.
Prices often pick up due to heightened demand for goods and services during the holiday. Common traditions include big feasts, giving friends and family red envelopes full of cash, and a lot of travel, as migrant workers in the major cities often return to the countryside.
Just a year ago, curbing high inflation was one of the government's top priorities. It raised lending requirements for banks and made it harder for investors to buy multiple homes -- a factor that was driving up the price of real estate in big cities.
Those policies appear to have worked. Aside from January inflation has been slowing since July, when prices were up a whopping 6.5% year-over-year.
That said, the tamer price increases have also come along with weaker economic growth. Recent reports show the drop in housing prices and weaker European demand for Chinese goods are starting to drag on the economy.
Amid that climate, some economists are predicting -- and investors are hoping -- the People's Bank of China will soon take action to support economic growth. That action could come in the form of lower interest rates or reserve requirements for banks, thereby freeing up credit in China's financial system.
"The broader trend is inflation is coming down," said Shang-Jin Wei, director of the Chazen Institute of International Business at Columbia University. "That leaves some breathing room for the government to apply stimulus measures if needed."
Thursday's CPI data also showed food prices, which account for roughly a third of the government's inflation measurement, were up 10.5% over a year-ago. While that's still a high inflation rate, it marks significant improvement since July, when food prices were up 14.8% year-over-year.