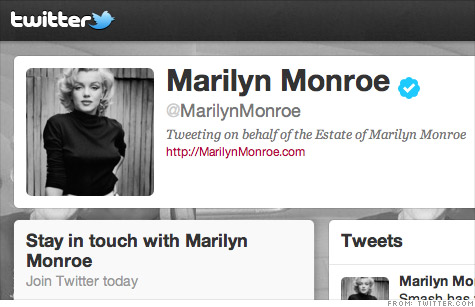 Authentic Brands Group, the owners of Marilyn Monroe's estates, hope the actress' verified Twitter feed will fuel more interest in the actress' brand.
NEW YORK (CNNMoney) -- Add one more venue where the legend of Marilyn Monroe lives and her voice beckons: Twitter.
As of Tuesday night, @MarilynMonroe became a verified account on Twitter. With a turquoise check mark next to its Twitter handle, the social media firm officially designated @marilynmonroe as the official voice of the estate of the actress and icon.
Twitter did not return calls or emails for comment, but according to its website: "The goal of [the verification] program is to limit user confusion by making it easier to identify authentic accounts on Twitter."
Celebrities and politicians are among those verified on Twitter. The social media firm shows Barack and Michele Obama's verified accounts as examples on its explanatory page.
Who is Twitter's Marilyn? 18 months ago, a marketing firm specializing in intellectual property, Authentic Brands Group, purchased the rights to all things Marilyn Monroe for a reported $20 million to $30 million. Authentic Brands Group declined to comment on the purchase price.
"We picked the person who handles our social media to tweet for the estate now," said Nick Woodhouse, chief marketing officer at Authentic Brands Group. "Over the next few months, we'll figure out our strategy to make sure we're properly representing who Marilyn is."
Marilyn Monroe's Twitter account has already added about 3,000 followers, but at fewer than 14,000, Monroe's posthumous Twitter renown is minimal.
With about 153 tweets, channeling Monroe's signature flair proves challenging on Twitter. The feed is sprinkled with Marilyn Monroe quotes: "We are all of us stars, and we deserve to twinkle." reads one.
The feed includes references to GE (GE, Fortune 500)-owned NBC's new show Smash in which the debut episode is centered around a proposed Marilyn Monroe musical, and Michelle Williams' new movie "My Week with Marilyn."
The estates of Elvis Presley and Michael Jackson and the family of Bob Marley have also attained verification by Twitter. All three have an edge on Monroe's following with Presley at roughly 50,000 followers; Jackson holding about 600,000, and Marley at 150,000.
George Harrison and Jimi Hendrix's self-dubbed "official" Twitter feeds haven't received the company's stamp of authenticity.
Outside of Twitter, film icon Marilyn Monroe is building quite the social media following with nearly 2 million "likes" on her Facebook page.
Authentic Brands Group is expecting that those likes and followers will prove lucrative. Since owning her estate, the fund has created licensing partnerships with luxury brands Dolce & Gabanna and Dior.
"We'll be tweeting with other celebrities soon," said Woodhouse. "We're going to be aggressive about our social media strategy, because fans want her legacy to live on."