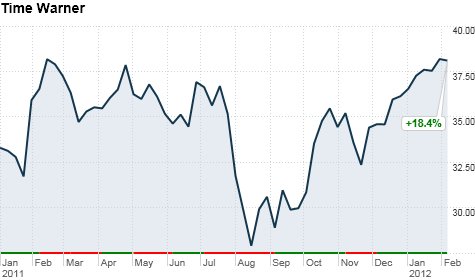 Click the chart to track Time Warner's stock.
NEW YORK (CNNMoney) -- Time Warner Inc. reported fourth-quarter earnings Wednesday that rose from a year earlier and beat Wall Street's expectations, largely due to the final Harry Potter movie.
The company also hiked its dividend and announced a new share buyback.
Shares of Time Warner (TWX, Fortune 500) rose more than 2% in early trading.
Time Warner's sales rose 5% to $8.2 billion, topping analysts' forecasts of $8.1 billion. The growth was led by 7% revenue growth at Warner Bros., thanks to the DVD and Blu-ray release of Harry Potter and the Deathly Hallows: Part 2, the final installment of the wildly successful series.
The film's DVDs, which went on sale in November, ranked within the top three selling DVDs domestically in 2011, and helped offset lower revenues from the silver screen releases and television license fees.
While Harry Potter's days at the box office have come to an end, Time Warner CEO Jeff Bewkes said the franchise will live on and be a source of strength for the company.
Time Warner rakes in licensing fees for The Wizarding World of Harry Potter from theme park Universal Orlando, owned by NBCUniversal.
The park is set to expand in Florida, and a second Wizarding World of Harry Potter will open at the Universal Studios Hollywood theme park in California, bringing in more fees starting in 2014.
Bewkes also noted the excitement building up for The Dark Knight Rises, which will mark the end of Christopher Nolan's Batman trilogy. Midnight IMAX shows for the July release are already selling out, he said.
Time Warner's television networks were also strong performers during the fourth quarter. Revenue climbed by almost 5% at the networks, which include CNN, HBO, TBS, TNT and truTV.
Sales from subscriptions at the television networks edged up 5% while advertising sales ticked up 2%. Meanwhile, content revenue spiked 16% thanks to higher sales of HBO's original programming, which includes "True Blood" and "Game of Thrones."
But revenue at Time Warner's publishing unit, Time Inc. declined 1%, as sales from subscriptions decreased and advertising sales remained flat during the quarter.
The New York-based parent company of CNNMoney.com and Fortune said its net income rose to $773 million, or 76 cents per share, up just 0.5% from the same quarter in the prior year.
Adjusted net income, the commonly used profit metric for media companies, rose 25% to $946 million, or 94 cents per share. Analysts polled by Thomson Reuters were looking for earnings per share of 87 cents.
Separately, Time Warner said it is raising its quarterly cash dividend by 11% to 26 cents per share, and announced a $4 billion stock repurchase program.
Throughout 2011, the media giant has repurchased approximately 144 million shares, for about $4.9 billion, helping its stock jump more than 12% in 2011.
For 2012, the company said it expects adjusted EPS growth to be in the low double digits, from a base of $2.89 in 2011. That would compare to 20% growth in adjusted EPS in 2011.
"We're investing aggressively in programming, production and marketing," said Bewkes, adding that the company is focusing on expanding its international presence.
For the full year, Time Warner booked a $2.9 profit and an 8% jump in revenue to $29 billion. Both topped Wall Street estimates. Adjusted net income rose 12% to $3.1 billion, or $2.89 per share. Analysts polled by Thomson Reuters were looking for earnings per share of $2.82.
The company's TV networks and Warner Bros. divisions both reported a 9% jump in revenue for 2011, primarily due to sports programming, including the NCAA basketball tournament, that aired on TBS, TNT and truTV and the Harry Potter movies.
Rival media conglomerate Walt Disney (DIS, Fortune 500) also posted a better-than-expected profit late Tuesday, but revenue growth fell short of expectations. News Corp. (NWSA, Fortune 500) opens its books after the closing bell Wednesday.