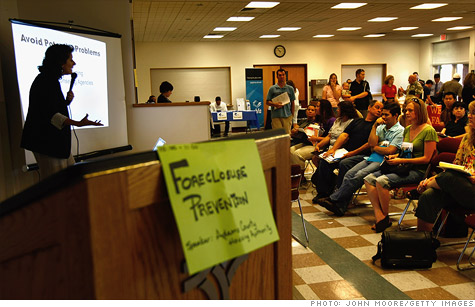 Mortgage banks will have to reform their practices on foreclosures under a $26 billion settlement.
NEW YORK (CNNMoney) -- After five years and four million foreclosures, the nation is now one big step closer to a national mortgage servicing standard.
The country's largest mortgage servicers will now have to follow a strict protocol when trying to foreclose on a delinquent borrower, thanks to a $26 billion mortgage settlement spearheaded by state attorneys general. These banks service nearly 60% of the nation's mortgages.
And if they don't, an independent monitor can slap them with penalties of up to $1 million per offense or $5 million for certain repeat violations.
The long-awaited settlement, announced Thursday, is expected to change the way banks handle foreclosures, experts said. And that's a big plus for homeowners who are behind in their payments.
"They've done something the federal government has failed to do -- establish a national servicing model," David Berenbaum, chief program officer at the National Community Reinvestment Coalition, said of the attorneys general.
The agreement requires the five banks -- Bank of America (BAC, Fortune 500), Citigroup (C, Fortune 500), JPMorgan Chase (JPM, Fortune 500), Wells Fargo (WFC, Fortune 500) and Ally Financial -- not only to stop robosigning documents, but also to notify delinquent customers in advance of initiating a foreclosure. It also sets up timelines and procedures for reviewing loan modification applications and mandates that banks set up a single point of contact for each borrower.
Two of the most important advances are that homeowners will be able to appeal if they are turned down for help and banks will be barred from initiating foreclosures at the same time as processing loan modification applications. This eliminates the so-called dual track problem, in which customers simultaneously get modification documents and foreclosure threats.
"A lot of families had their homes taken away while they had modifications or were negotiating modifications," said Peter Swire, a law professor at Ohio State University and former Obama housing advisor.
Finally, an independent monitor will ensure that banks are adhering to the rules. Joseph Smith Jr., who serves as North Carolina's commissioner of banks and was unsuccessfully nominated to head the Federal Housing Finance Agency, will be the inaugural watchdog.
The monitor will also publish regular reports that identify servicers who fall short of the standards.
"They know they'll be on the hook," said David Min, associate director for financial markets policy at the left-leaning Center for American Progress, of the banks. "It's a relatively severe standard that will bring them in line."
Thursday's agreement has a lot more teeth to it than an enforcement action announced by federal regulators last April against 14 servicers, experts said. The regulators called for similar measures, but the banks were allowed to monitor themselves. At the time, consumer advocates criticized the action as being too easy on the banks.
And the penalties associated with the federal action were a pittance compared to the states' settlement. In fact, two federal regulators Thursday announced they would impose $1.2 billion in penalties against several major servicers. The fines were included in the state settlement.
The financial industry, meanwhile, applauded the deal and called for the creation of rules that would apply to all mortgage servicers.
"Borrowers, servicers and the economy itself will benefit from uniform national rules," said the Financial Services Roundtable in a statement.