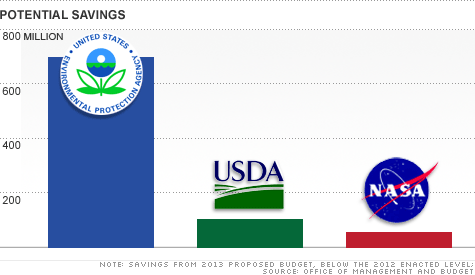 The EPA, USDA and NASA are all targeted for an outright budget cut.
NEW YORK (CNNMoney) -- President Obama's new budget cuts government spending in a big way.
Sure, there are a bunch of new taxes on the rich, but more deficit reduction is sourced from winding down overseas wars and bringing agency budgets in line with the congressional mandates.
Add it all up, you get lower deficits.
The budget projects a $1.3 trillion deficit this year, and $901 billion in 2013. But by 2018, the deficit is forecast to fall to $575 billion, before increasing slightly as 2022 approaches.
How does Obama get there?
Non-security discretionary spending -- subject to the caps laid out in the Budget Control Act -- would be hard hit. Currently $450 billion, it would fall to $410 billion in 2013 and $385 billion by 2015.
That part of the budget, which does not include military spending, entitlements or interest on the debt, is what many Americans think of as the federal government.
In 2015, the $385 billion allotted for non-security discretionary spending would amount to only 9.5% of total federal outlays.
The White House notes that when coupled with less spending on overseas wars, the reductions "would bring discretionary spending to its lowest level as a share of the economy since Dwight D. Eisenhower sat in the Oval Office."
This year, the administration details 210 places where programs will be cut or eliminated, for savings of $24 billion in 2013 and $520 billion over a decade.
The Obama administration wants to slash $33 million from the Superfund remedial program, an effort to clean up and monitor areas where hazardous waste poses a risk to humans or the environment.
According to the White House, the funding reduction "reflects difficult budget choices" and will negatively impact program performance.
Translation: Fewer inspections, less monitoring and no new projects.
And the budget cuts $359 million in EPA funds that help finance infrastructure projects at the state level designed to ensure safe drinking water.
Funding for the government's Low Income Home Energy Assistance Program, which subsidized energy bills for 9 million households last year, is also targeted for a $452 million reduction.
That's more than the Obama administration asked for in 2012, but less than Congress approved.
As for agencies, most will get a smaller increase than they might have expected. A few, like the Environmental Protection Agency, NASA and the Department of Agriculture, will see a real reduction in funding.
Mandatory programs -- which don't need annual authorization from Congress to spend -- would also be cut.
Those cuts would include select farm subsidies and federal employee retirement and health benefits, for savings of $217 billion over a decade.
The military is also preparing for some belt-tightening.
The Pentagon plans to spend $487 billion less over 10 years, a course that Secretary of Defense Leon Panetta has already laid out in some detail.
For example, Panetta has said the Army will save money by pulling two of its four brigades out of permanent bases in Europe to bases in the United States.
And the Navy will be getting rid of older ships that don't have the latest ballistic missile defense.
The White House is including nearly $1 trillion in savings from winding down the wars in Iraq and Afghanistan as deficit reduction, but since that money was never going to be spent, critics say it shouldn't be counted.
Where Obama is a little short on ambition is entitlement spending.
The budget would cut more than $360 billion from Medicare, Medicaid and other health programs over a decade.
But that's a drop in the bucket when compared to the rapid expansion of costs expected for entitlement programs in the not-so-distant future.
And the White House stayed away from fundamental reforms to Social Security.
Maya MacGuineas, president of the Committee for a Responsible Federal Budget, praised Obama for his "focus on deficit reduction" but said more must be done.
"His proposals would barely stabilize the debt -- and at too high a level," MacGuineas said in a statement.
In the end, many of the proposals in the Obama budget are likely to fall by the wayside since the measure stands no chance of being enacted.
And Obama's 2013 budget is only the first step in a convoluted process that involves no less than 40 congressional committees, 24 subcommittees, countless hearings and a number of floor votes in the House and Senate.