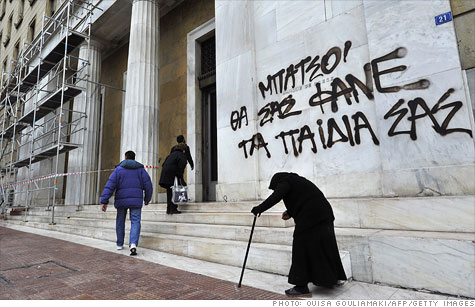 Greek citizens have been protesting the proposed budget cuts with public protests and grafitti.
NEW YORK (CNNMoney) -- As Greece continues to try to push through tough austerity measures to secure desperately needed bailout funds, the bad news just keeps piling up.
A much anticipated meeting of eurozone finance ministers was canceled Tuesday. Jean-Claude Juncker, who heads the Eurogroup of 17 eurozone finance ministers, said he would hold a conference call in place of the meeting.
Juncker said it appeared more work needed to be done between Greece and its bailout partners: the International Monetary Fund, the European Union and the European Central Bank. He specifically cited the additional €325 million in cuts that are needed to close the fiscal gap, along with a debt sustainability analysis.
Ahead of Wednesday's teleconference, Greek Finance Minister Evangelos Venizelos said Greece has met the greatest part of its obligations towards its creditors.
There are "very few remaining issues" with the austerity package and that these will all be "fully clarified" before today's teleconference, he said, adding that Greece has to deal with constantly being faced with new terms and conditions.
"There are obvious powers within Europe who are playing with fire...and they want Greece out of the eurozone," Venizelos said, noting that Greece will do what it takes to show that its place remains with eurozone. "We have to choose between unpleasant and even more unpleasant solutions," he added.
Early Monday, the Greek Parliament voted to approve a package of budget cuts that included wildly unpopular job and salary cuts for government workers.
Greek citizens fear the effects of these austerity measures, taking to the streets with violent protests in Athens over the weekend and into Monday.
Meanwhile, the Greek government reported Wednesday that Greece's gross domestic product, the broadest measure of a nation's economic output, fell 6.8% last year.
That's much worse than the 6% contraction the government originally predicted. Fourth-quarter GDP also continued to decline, shrinking 7%, compared with a 5% decrease in the third quarter.
The weakening economic data will add more pressure on the Greek government, which has been mandated to make a series of budget cuts to secure a second €130 billion bailout from the European Union and the International Monetary Fund.
Greece needs the money to avoid a potential default on a €14.5 billion bond redemption in March.
The fear among economists is that this mix of economic contraction and budget cuts could prove to be a toxic cocktail for Greece.
"We have no reason to expect the economy to recover anytime in the foreseeable future, as fiscal austerity of Olympic proportions takes its toll on aggregate demand," wrote Carl Weinberg, chief economist at High Frequency Economics in a research note.
-- CNNMoney's Catherine Tymkiw and CNN's Taliya Kalayi contributed to this report.