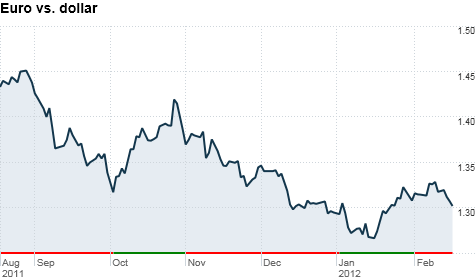 Click chart for more currency data.
NEW YORK (CNNMoney) -- The euro slid to a one-month low Thursday, after Moody's put a number of European financial firms up for review.
Barclays (BCS), BNP Paribas, Deutsche Bank (DB), HSBC (HBC), the Royal Bank of Scotland (RBS) and Societe Generale are among the European banks being scrutinized by the credit ratings agency.
Some of these banks just reported less-than-stellar earnings, including Societe Generale, which said Thursday that its fourth-quarter net income fell a whopping 89% -- driven in part by bigger writedowns of Greek debt. BNP Paribas also said that it had increased its writedowns, when it reported its earnings Wednesday.
"That is bad for the European banking system," said Axel Merk, president and chief investment officer of Merk Investments.
European banks have been under pressure as they rush to meet new capital requirements by June.
The euro fell below $1.30 for the first time since late January, hitting $1.297 in early trading Thursday.
Investors remain on edge about the fate of Greece, along with the underlying issues that continue to plague Europe. And the Moody's reports serve as another reminder that the debt crisis is still a crisis.
"[ECB President] Draghi has been very up front about doing all he can to help the banks," Merk said, noting there's generally been an upbeat mood so the pullback isn't too much of a surprise.
But that doesn't mean it's time to break out the champagne. "The problems aren't gone," he said, but the recent gyrations are "mostly about the mood swings that have been happening."
Societe Generale currency analyst Lauren Rosborough said the euro could go even lower, "unless there is a significant thaw in the relationship between Greece and Northern European finance ministers."
The Eurogroup of 17 eurozone finance ministers are expected to make a decision on a second bailout for Greece this coming Monday.
"It does appear a deal will be struck and Greece will be kept afloat for the next few months," Merk said.