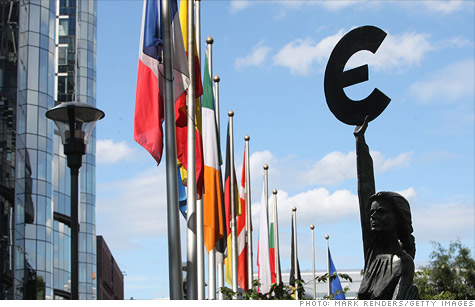 Moody's says reviews of banks in Europe and around the world are due to ongoing pressure from crisis.
NEW YORK (CNNMoney) -- Five big U.S. banks were among 17 global institutions placed under review for downgrades Thursday by the rating agency Moody's, reflecting the ongoing economic pressures from Europe's fiscal crisis.
Separately, Moody's placed 114 European institutions under review, including nine that are subject to the review of global banks.
Moody's is placing under review the long-term ratings and credit assessments of Bank of America (BAC, Fortune 500), Citigroup (C, Fortune 500), Goldman Sachs (GS, Fortune 500), JPMorgan Chase (JPM, Fortune 500), Morgan Stanley (MS, Fortune 500), as well as the Royal Bank of Canada. All except JPMorgan Chase and Royal Bank of Canada are having some or all short-term ratings reviewed.
The European banks that are part of both reviews include Barclays (BCS), BNP Paribas, Deutsche Bank (DB), HSBC (HBC), the Royal Bank of Scotland and Societe Generale.
The rating agency said actions reflect "the adverse and prolonged impact of the eurozone crisis, which makes the operating environment very difficult for European banks" as well as "the deteriorating creditworthiness" of eurozone countries.
The agency also said that banks and securities firms "with significant capital market activities" face "longer-term, substantial challenges."
Moody's announced its review as European finance ministers haggle over the details of a second bailout for Greece, a decision that could come next week.
The rating agency said that Italy has the most financial institutions under review, with 24, with 21 more in Spain. Other nations with banks under review are in France, the United Kingdom, Austria, Denmark, the Netherlands, Portugal, Germany, Sweden, Slovenia, Switzerland, Belgium, Finland, Luxembourg and Norway.
Going forward, Moody's said there is "little likelihood" that the situation will improve. The agency said the threat of downgrade would be removed from the banks only if the European economy strengthens, or the banks either reduce their exposure to risky assets, their use of wholesale funding or their capital market activities.