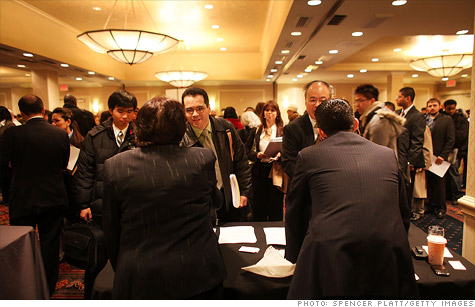 Seekers of gainful employment attended a job fair in Manhattan on Feb. 6. Their odds are looking up, as weekly jobless claims fell to a nearly four-year low.
NEW YORK (CNNMoney) -- Jobless claims plunged last week to a nearly four-year low, in the latest bit of good news for the U.S. economy.
Initial unemployment claims totaled 348,000 in the week ended Feb. 11, said the U.S. Department of Labor. That's 13,000 less than the week before.
It's also significantly less than the forecast of 365,000 claims, based on a survey of analysts by Briefing.com.
The total number of people filing for their second week of unemployment benefits or more also dipped, falling to 3,426,000, a decrease of 100,000 from the prior week.
John Lonski, chief economist for Moody's Capital Markets Group, said signs that the job market is strengthening could be the beginning of a trend.
"The labor market could be going through an important turning point that would lend respectability to the current economic recovery," he said.
Earlier this month, the Labor Department announced that the unemployment rate had dipped to 8.3% in January, as the national economy gained 243,000 jobs.
But Lonski noted that the recovery is still threatened by turmoil overseas -- specifically the European fiscal crisis and unrest in the oil-producing Middle East.
"Unfortunately, the menacing situation in Europe and the world's major exporting region does not want to go away," he said. "If the situation outside the U.S. could stabilize, you would be looking at even bigger gains in employment."