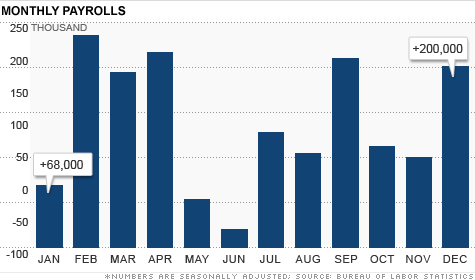 Economists are predicting that jobs growth in January slipped from December. But 2012 should still be slightly better than 2011.
NEW YORK (CNNMoney) -- Will investors, consumers and politicians be singing "Take this jobs report and shove it!" come Friday morning?
The government will report two key numbers Friday: the number of jobs that were added in January and the unemployment rate. Both figures have been moving in the right direction lately and the hope is that this trend will continue.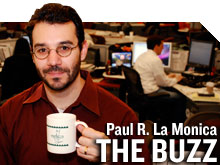 Employers added 200,000 jobs in December. And the unemployment rate dipped to 8.5%, the lowest it's been in nearly three years.
However, the labor market may have lost a little bit of steam in January. According to a survey of economists by CNNMoney, the current median forecast is that just 135,000 jobs were added last month and that the unemployment rate likely rose to 8.6%.
Hopefully, the economists are wrong (they often are) and there will be a pleasant surprise. But there are reasons for concern that the job recovery may be running out of gas.
For one, December's job gains were artificially inflated by the more than 40,000 courier and messenger jobs that were added in December. That was due to the hiring of temporary workers by the likes of UPS (UPS, Fortune 500) and FedEx (FDX, Fortune 500) around the holidays.
Consumers also appear to be in a frugal state of mind once again. The government reported Monday that personal spending was flat in December despite a decent increase in income from November.
Many businesses have been reporting decent, but not fantastic, financial results for the fourth quarter as well. If that trend continues, companies will be hard-pressed to hire more workers.
Some businesses are already using "uncertainty" about the economy and political landscape in Washington as an excuse to not hire. If consumers aren't buying their products, there's little reason for corporations to increase staffing.
"Earnings growth has flattened out in the fourth quarter and that's probably a trend for 2012. Corporations are going to be cost-conscious," said Keith Hembre, chief economist for Nuveen Asset Management in Minneapolis. "Companies will look for more improvement in productivity, not to add more workers."
The housing market remains a quagmire for many Americans as well. Home prices fell 1.3% in November, according to the latest S&P/Case-Shiller report. The decline in home prices makes it harder for people that might want to move to a state with better job prospects. People are trapped where they are.
"The real estate market will continue to inhibit job growth," said Ray Stone, an economist with Stone & McCarthy Research in Princeton, N.J. "When you are underwater on your mortgage, you can't move from New Jersey to take a job in Chicago."
Sluggish spending and a housing market that may be merely bumping along the bottom do not create a recipe for a jobs boom.
But the good news is that there will be more job opportunities this year. The labor market is getting better, just not as quickly as many would like.
"We are seeing steady improvement," said Bobbi Moss, senior vice president with Govig & Associates, a Scottsdale, Arizona-based affiliate of executive search organization MRINetwork.
Moss said that there is growing demand for jobs in the manufacturing and health care industries and even the hard hit construction sector. She added that her clients are giving out more signing bonuses and that she's seen more employers make counteroffers to people looking to leave. That was almost unheard of a year ago.
Still, Stone estimates that the economy might only be able to average upwards of 150,000 job gains a month. That would lead to nearly 2 million jobs added this year. Last year, 1.6 million jobs were added.
All in all, 2 million jobs added won't be enough to put a meaningful dent in the unemployment rate. Stone said he expects the rate to jump up and down a bit over the next few months. But it will probably end the year around 8.3%.
That's better than being closer to 10%. But it's a far cry from the pre-Great Recession lows of 4.4%. And Moss said nobody should expect the unemployment rate to get that low again for a long time..
"I'm not seeing anything like 2007 in the job market anytime soon. It is a recovery, but it will still be a slow one." she said.
Best of StockTwits: RadioShack (RSH, Fortune 500) is hurting. Amazon (AMZN, Fortune 500) is thriving but investors are still nervous about Tuesday's earnings report. And ARM Holdings (ARMH) continues to live up to its billing as the Intel of mobile.
SheilaD_TV: Best research title this morning: RadioShack - Still Your Mother's Favorite Electronics Store (via Wedbush). $RSH plunges post earnings.
BrianSozzi: The real deal on Radioshack earnings: when was the last time you thought of going there? Exactly. $RSH
Ouch. The awful guidance from RadioShack is hurting Best Buy (BBY, Fortune 500) too. You do have to wonder how any electronics store can really compete with Amazon. Which leads me to ...
firstadopter: Someday however $AMZN investor will wake up and say, maybe shipping out $5 bottle of Listerine w/free 2 day shipping isn't really economical
firstadopter: How will $AMZN ever get back the money they lose per Kindle Fire, if they train people to get a free paid app from them every day forever?
Tell us how you really feel about Amazon! I do agree that investors always need to keep an eye on margins. Some things Amazon does to attract more customers may not make sense in the short-term. But I think Amazon deserves the benefit of the doubt. It has routinely proved skeptics wrong.
techinsidr: $ARMH just has so much momentum behind them. $AAPL / Samsung / HTC / $AMZN... and on the fab side too $QCOM $BRCM $NVDA $MRVL #tidalwave
The U.K.-based designer of chips reported another great quarter. ARM may very well be the best way not named Apple to invest in the mobile device revolution.
The opinions expressed in this commentary are solely those of Paul R. La Monica. Other than Time Warner, the parent of CNNMoney, and Abbott Laboratories, La Monica does not own positions in any individual stocks.