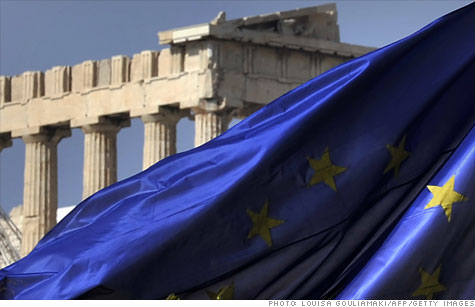 European finance ministers will meet Monday to attempt to avert a Greek default.
NEW YORK (CNNMoney) -- It's officially crunch time. European finance ministers need to agree to the terms of a second bailout to keep Greece from defaulting on an upcoming bond payment.
While it's been widely expected that the Eurogroup (the 17 eurozone finance ministers) will give their approval when they meet Monday, we've been here before.
Greek Finance Minister Evangelos Venizelos sounded optimistic heading into Monday's meeting, saying "Greece is coming in to today's crucial meeting of the Eurogroup having fulfilled all the conditions" required for the bailout and debt swap with private sector investors.
As part of the deal, the Greek government is expected to be required to maintain an escrow account with enough cash to cover nine to twelve months worth of debt. If the account runs low, the government will be forced to reallocate funds.
Additionally Greece will have to take 24 additional steps before the end of February, mostly things the government has promised but hasn't done so far. Greece's government also announced further austerity cuts ahead of Monday's Eurogroup meeting.
The Greek Parliament already approved a deeply unpopular package of pay cuts, layoffs pension reforms and other measures to reduce spending.
Meanwhile, the European Central Bank, which holds an estimated €30 billion to €45 billion of Greek debt, is reportedly in the process of swapping its existing Greek debt for new bonds, with similar terms. Per its mandate, the ECB will not take any losses from a Greek debt restructuring.
Private sector bondholders are expected to agree to voluntary writedowns of up to 70% on the value of their bonds, after the bailout agreement is finalized.
The Greek cabinet met over the weekend to discuss the bailout and debt swap deals. "The government is to launch the debt swap deal on March 8 and hope for it to be completed by March 11," a government official told CNN Sunday.
But that doesn't mean private sector investors are on board. A spokesman for the Institute for International Finance, which represents the interests of bondholders, said he could not confirm any deal was in place.
According to news reports, the Greek government may also pass legislation this week through a so-called collective action clause that would force 'holdouts' to take the deal if there aren't enough 'volunteers'.
Standard & Poor's said earlier this month that it would applying the collective action clause would be viewed as a selective default, under the rating agency's current criteria.
S&P's head of sovereign ratings, John Chambers, said at a Bloomberg conference in January that a Greek default was inevitable.
There have also been calls for public sector bondholders to also agree to writedowns but so far, that hasn't gained much traction.
Time is ticking. Greece needs the money to avoid a potential default on a €14.5 billion bond redemption coming due March 20.
"Greece has little room for execution error," wrote Deutsche Bank fixed income analysts Jim Reid and Colin Tan in a client note.
Following a conference call Friday, Greek Prime Minister Lucas Papademos, Italian Prime Minister Mario Monti and German Chancellor Angela Merkel said they were "hopeful" the finance ministers would give their seal of approval on the deal come Monday.
"This deadline is not going anywhere," wrote Carl Weinberg, chief economist for High Frequency Economics in a research note. "The consequence of another failure to resolve all open issues and to move forward with a deal will be a default, we are sure."
The Eurogroup will hold an advanced meeting Sunday night ahead of its official meeting on Monday.
-- CNN's Elinda Labropoulou contributed reporting from Athens and CNNMoney's Catherine Tymkiw contributed from New York