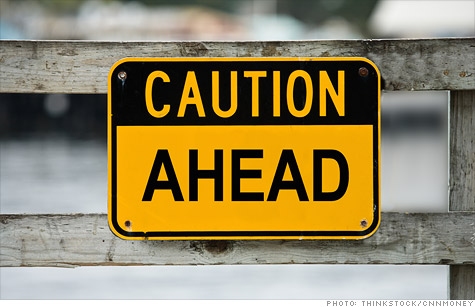 Economy in recovery? Not so fast
NEW YORK (CNNMoney) -- Employers are hiring, manufacturing is revving up and stocks are rallying. It looks like the recovery could finally be taking hold.
Sound familiar?
The recent momentum of the American recovery feels a lot like early 2011, when many of the same green shoots were driving optimism.
But things went awry last spring when oil prices starting rising and Japan's earthquake sent economic shockwaves rippling throughout the world. The European financial crisis escalated and the debt ceiling debate in the United States weighed on confidence.
By June, even Federal Reserve Chairman Ben Bernanke was admitting the economy was hitting a "soft patch."
Are we finally on the path to a sustained recovery, or will it peter out all over again in 2012?
The answer all depends on a few key challenges:
Gas prices near the danger zone
Tension with Iran poses perhaps the greatest risk to not just the U.S. economy, but the world. About 20% of the world's oil passes through the Strait of Hormuz, and Iran's threat to close the critical shipping lane has recently driven a rise in oil prices.
Add recently improving economic data -- which often leads oil speculators to forecast greater demand for fuel -- and lower supply and higher demand are a recipe for a potential spike in gas prices this spring.
Gas prices are already at their highest levels ever for this time of year, and some analysts predict they'll hit a national average of $4 a gallon in May. Some regions are even expected to see $5 gas by Memorial Day.
That's going to hit consumers hard, just as it did last year. Consumer spending slumped in the summer, dragging on economic growth. Job creation soon slowed to a trickle.
"This year, the recovery is largely on the backs of consumers, so anything that undermines consumer spending would pose a risk to the economy," said Carl Riccadonna, senior U.S. economist with Deutsche Bank.
Because it's happened before, he doesn't see $4 gas as a major risk, but anything higher than $4.60 a gallon could be worrisome.
"Four-dollar gas doesn't scare me, but if the Strait of Hormuz gets shut or bombs start falling on Iran, that would certainly be troubling for the markets and could lead to an oil price spike," he said.
Fiscal policy drags
Government job cuts, especially by states and localities, are likely to continue -- and while they're expected, the impact is not to be taken lightly. The government is the largest employer in the country.
Meanwhile, as companies look ahead to the future, a big question mark hangs in the air: What will happen after the Bush tax cuts expire at the end of the year?
January 2013 also triggers $1.2 trillion in automatic budget cuts, as well as the start of many of President Obama's healthcare reform provisions.
Hope for further clarity is waning, as Congress isn't expected to make much progress on any major issues until election season winds down.
"There's going to be significant uncertainty about fiscal drag," Riccadonna said, estimating government cuts and uncertainty around fiscal issues could shave as much as two percentage points off economic growth in 2013.
These issues are certainly not a surprise, so employers are likely to weigh them into their hiring and investing decisions in advance.
All it takes is one shock
Last year's shocks came in the form of revolutions in the Middle East, the earthquake in Japan and Europe's escalating debt crisis.
While those issues still linger, new problems, including Iran, are brewing around the globe in 2012.
"We've removed several key dampening factors, but Iran remains the wild card," said Beata Caranci, vice president and deputy chief economist for TD Bank. "When we look at the big risks emanating for the U.S., they're mostly occurring outside U.S. borders."
Meanwhile, the fastest growing economies in the world, often called emerging markets, are starting to show signs of losing momentum. China, the world's second largest economy, has recently shown signs of slowing down.
India's government has predicted its economy could grow less than 7% this fiscal year -- its slowest growth since the financial crisis in 2008.
While both governments are starting to take efforts to support economic growth, the jury is still out on the results.
"Given our experience, often times it's really hard for some of these countries to control their slowdowns," said John Silvia, Wells Fargo chief economist. "The Asian slowdown could be faster and quicker than expected."