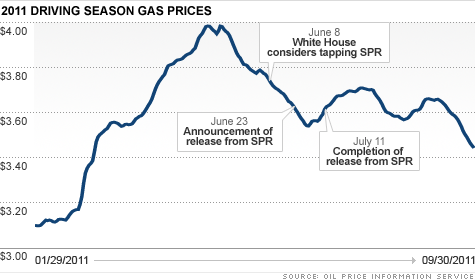 NEW YORK (CNNMoney) -- When gas prices are climbing, as they are now, there's an equivalent surge in talk of tapping the nation's Strategic Petroleum Reserve
If last summer's experience is any indication, a large release of government-controlled oil into the market might bring only short-term relief to consumers.
The SPR is the nation's excess supply of oil kept in man-made underground salt domes in Texas and Louisiana. It was created to deal with oil price spikes associated with such events as war, natural disasters or terrorist attack.
It held a record 727 million barrels of oil before a 30.6-million barrel release last summer in response to the civil war in Libya. The reserves have not been replenished since that release, remaining at about 95% of capacity.
Advocates say another release is justified, since the rise in gas prices is blamed in part on the looming sanctions dispute with Iran.
"This most recent run-up in prices is primarily the result of fear driving oil markets, not an actual loss of supply," said three Democratic congressmen -- Ed Markey of Massachusetts, Peter Welch of Vermont and Rosa DeLauro of Connecticut -- in a letter to the Obama administration.
They argued that a new SPR release "would stand as a reminder to markets that the United States is ready to employ an aggressive and effective drawdown policy if needed."
Treasury Secretary Timothy Geithner seemed to signal a possible new release when he told CNBC on Friday that "there's a case for the use of the reserve in some circumstances, and we'll continue to look at those and evaluate that carefully."
Last June 8, a similar signal by White House Press Secretary Jay Carney that an SPR release was being considered sent oil futures down 9% and gas prices down 3% during the two weeks before the release was announced formally.
Following the June 23 SPR release announcement, pump prices dropped another 2%. But they stayed down for just over two weeks, the time it took for the Department of Energy to sell the oil for about $105 a barrel.
After that, pump prices rebounded to above the pre-release level for most of the rest of the summer. Gas didn't stay below the price before the SPR release until mid-September -- when prices traditionally decline as summer driving winds down and use of summer fuel blends required by environmental regulations ends.
"I don't think Obama got much impact out of the sale last year," said Tom Kloza chief oil analyst for the Oil Price Information Service.
Kloza said it's possible that oil and gas prices last year would have risen even higher without the release, and that Obama's authorization to release oil from the reserves did have the benefit of tamping down speculation.
"It's wise to always have in the back of speculators' mind that some action could be taken to tame runaway markets," he said.
Kloza said the price of gasoline typically peaks in May, as it did last year, ahead of the change to more expensive summer grades of gasoline. But he said that there's a real risk there could be a second spike this July, if the situation in Iran heats up, and if a major East Coast oil refinery owned by Sunoco (SUN, Fortune 500) shuts down because no buyer has been found.
The risk of another spike in July is an argument for waiting before there is any release from the SPR, Kloza said.
There is also sure to be opposition to such a new release, especially with the presidential election campaigns in full swing.
Last summer's release drew opposition from the U.S. Chamber of Commerce, which argued "our reserve is intended to address true emergencies, not politically inconvenient high prices."