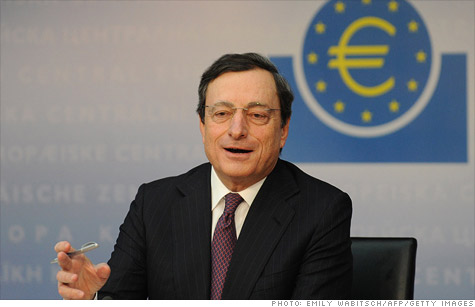 ECB president Mario Draghi has been trying to help stabilize banks and boost lending.
NEW YORK (CNNMoney) -- European banks deposited record amount of money at the European Central Bank overnight, days after the ECB flooded the banking system with low-cost loans.
The level of deposits in the ECB's overnight faculty surged to €776.94 billion from €475.22 the day before, according to ECB data released Friday.
The spike came after the ECB said Wednesday that banks borrowed €529 billion in the second round of the its long-term refinancing operation (LTRO), in which banks were offered unlimited 3-year loans at ultra-low interest rates.
The level of overnight deposits rose to a high of €528.18 billion in January after banks borrowed nearly €489.19 billion under the first LTRO in December.
Overnight deposits, which earn a meager 0.25% interest rate, subsequently declined after that first round. But the levels have remained near record highs this year as the ECB stepped up lending.
The increase in overnight deposits does not necessarily mean the LTRO loans are not circulating in the banking system, according to the ECB.
The loans made in December "mechanically increased" the overall amount of money circulating in the banking system, the ECB said in a recent policy bulletin.
As a result, the money was reflected in the deposit facility, or ECB accounts, regardless "of the use that individual banks make of the newly available liquidity."
The ECB has been widely credited with helping to mitigate the risk of bank failures in Europe, where the industry is facing record refinancing needs and higher capital requirements this year.
The liquidity measures are also seen as a major driver behind the recent decline in borrowing costs for Italy and Spain, a development that has raised hopes that a full-blown debt contagion in the eurozone can be avoided.